Finally, finally! After over a year of work (albeit intermittent), Lavender Honey & Other Little Things is now available!
It's a fun "little" book (that isn't so little…) This is what it's all about:
As I mentioned in my sneak peek, the book is all about making. It's about making four different embroidered little things: a needlebook, a small scissor fob (or ornament), scissor pulls or magnets (using covered button forms), and a pin keep (or large ornament).
There are five designs in the book, and each of the five designs can be finished the four ways mentioned above, for a total of 20 possible projects.
The book begins with the Lavender Honey needlebook. The stitcher is taken step by step through embroidering it and finishing it. Then, each of the other three finishes are addressed step-by-step as well.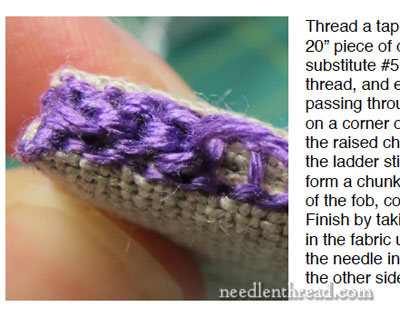 Clear, large photos help you through the whole embroidery and finishing process, making the projects accessible to beginners and beyond.
Large photos of all the finished projects are featured throughout the book, too, so that you know what you're aiming for in the finished project.
While the book is definitely about embroidered projects, it's really more about finishing – how to turn your embroidery projects into something – something little, compact, neat, tidy, pretty, and fun!
If you've never done finish work before or made your embroidery into anything specific, Lavender Honey & Other Little Things will teach you how!
The other four projects in the book include A Sheep on a Sunny Hill, Wee Bunny, The Happy Hedgehog, and Sunflower.
For these subsequent projects, you'll find a patterns page, materials list, suggested substitutions, and a stitch placement guide and order of stitching.
There are suggested alternative designs for the backs of some of the Little Things, too – and these can be mixed and matched on any of the projects.
In the back of the book, you'll find a Stitch Index with step-by-step photo instructions for all the stitches used in the Little Things featured in the book.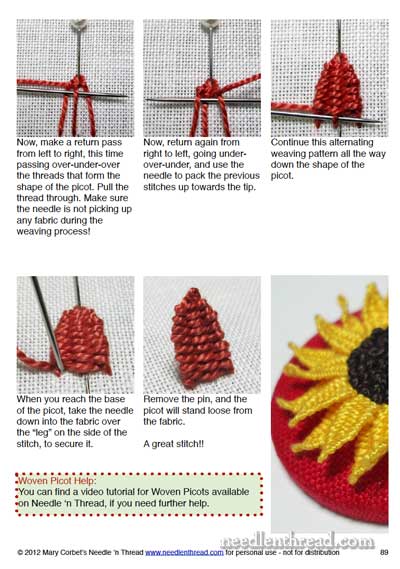 The stitches are demonstrated with clear photos and text, and are accompanied by helpful tips and links to other instructive articles and video tutorials online.
There's a section in the book on designing your own Little Things, too, and the book ends with a Resource Page that lists various places you can find the supplies I used in my Little Things.
If you have a stash, though, you don't necessarily need to buy supplies, and that's another great thing about these little projects – they are perfect for stash busting and for using up left over scraps of fabrics and partial skeins of thread. Your little things can be made with whatever you have on hand. That means you can get stitching on your own projects right away – and because the projects are small, you can have your own Little Things before the weekend is over!
Aren't small projects great?
E-Book Delivery
Lavender Honey & Other Little Things is delivered as a PDF via an email download link shortly after purchasing. The file is about 26MB, so it is somewhat large – please be patient while it downloads! As a PDF, it can be read on your desktop, laptop, and on any mobile devices that handle PDFs (open it in iBooks, for example, or save it to your computer and drop it in iTunes under books and sync your iPad).
You can also print Lavender Honey & Other Little Things. You can print the whole book or only the pages you need, you can print in black & white or on "draft" setting if you want to save ink, and if your printer handles it, you can print front and back on the paper. It's a 90-page book.
If you have any difficulties at all with the download link – whether downloading or receiving the link – don't worry! Just contact me and I will get the PDF to you an alternate way.
I really, really hope you enjoy this book and these projects. It was heaps of fun to develop! And I hope it's just as much fun for you to make the things in it!
You can find Lavender Honey & Other Little Things in my shop on Needle 'n Thread. Get your copy today, and start making lots of Little Things!
Purchase Lavender Honey & Other Little Things Here