There are some needlework & embroidery tools that are A Must. Good scissors, good needles, good hoops and frames fall under this category in my mind.
Then there are those embroidery tools (I sometimes call them "accessories") that aren't quite essential, but that are nice to have and useful. A pretty needlebook or needle case, a nice scissor fob that helps you easily locate your scissors, an extra-special, funky or fun pin cushion – these are the types of tools and accessories that fit in this category.
And then there are those needlework tools on the market that baffle me. Why do we need them? What's the point? And really, why should I spend money on that?
Today, I'm going to show you a tool that fits in this latter category, that had me baffled at first (why would anyone buy this?), but once I started playing with it, I saw that it has its merits and is kind of fun!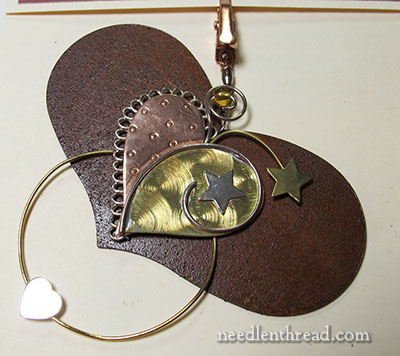 Here it is. You can see that it's a hand-crafted little piece of metal art in its own right. This is a thread separator by Puffin & Company.
Right now, you might be remembering this article on how to separate embroidery floss from back in August, and you might be thinking that you have, built in, the tools you need to undertake the daunting task of separating your floss. They're called Fingers, and we have 10 of them, and most of us didn't even have to pay for them. Right?
Well, that's all true. But it doesn't change the fact that, as humans, we're always seeking ways to make our tasks "easier" – and, though we tend to complicate things a bit when we do so, it's kind of fun to explore different ways of getting a job done!
For example, according to the instructions for use on the back of the thread separator, it takes nine steps to use the little device.
Besides the weight and balance provided by the hand crafted metal heart piece, the key instrument on the thread separator is this clip…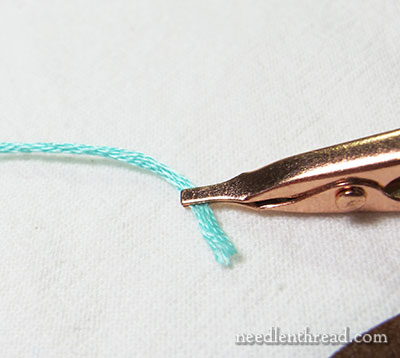 …which holds onto the end of your piece of cut floss (all six strands).
The basic idea of the tool is this: you clip the thread separator (I like to think of it more as an artistic little weight) to the end of the floss, you pick up the floss and pick out the strands you want to separate from the bunch, and then, using both hands with the weight dangling towards the floor, and with your separated strands in one hand and the rest of the bunch in the other, you let the weight hang.
Because of the twist in the thread, the weight will spin. And as it spins, it untwists the threads.
The result? Untwisted, separated floss. You can do more than one strand at a time. In fact, you can practically do them all at once.
Puffin Thread Separators are available through the Puffin & Co website. There are all kinds of different designs – from dragonflies to angels to butterflies and cats and dogs and birds and more.
Incidentally, I'll mention it before you beat me to it: I've accomplished the same thing using a heavy clothes pin.
But it wasn't quite as fun.
So, if you have $15 to spend on a tool that isn't exactly essential, but is clever and fun, and if you find separating your thread with your fingers a daunting task, you might invest in a Puffin thread separator. They'd also make great little gifts, stocking stuffers, and the like for stitching friends, guild buddies, and so forth – especially for the ones who already seem to have everything!