After posting this exuberant flower embroidery pattern a couple weeks ago, and this openwork flower embroidery pattern last week, I received some questions from readers about old needlework catalogs and gleaning patterns from them.
So I pulled out my copy of the old Herrschner's catalog from the first decade of the 1900's to illustrate some points on developing line drawings that are suitable for hand embroidery patterns.
This is the catalog. You can see that it is not very large at all – about 6.5″ x 9.5″, and about 1/2″ thick. Considering that the catalog features hundreds and hundreds of designs for needlework sold by Herrschner's at that time, you can imagine that the designs actually featured in the catalog are very, very small.
Here are some of the Battenburg lace designs in the catalog. They're great designs! And, for being so small, the details on them are quite clear. The largest pattern shown above (the one on the left) is about 2″ x 2″, representing a tea cloth or table cloth or doily pattern that could be ordered for an 18″ x 18″ cloth or 22″ x 22″ cloth.
So, the pattern as shown in the catalog is significantly reduced in size, yet it retains enough clarity for the embroiderer to discern whether or not the pattern is palatable.
The patterns are not actually presented full size, or anything close to full size. For 30 cents, the embroiderer ordered a full-sized, perforated pattern ready to transfer onto fabric.
Other designs – borders for tea cloths or for household linens – are equally as small in size. Underneath the border is indicated what size the pattern actually is, in depth. So the grape design just above my fingers in the photo above, is about 1/2″ high in the catalog, but it represents a design that, when purchased, was three inches deep.
Again, here are some teeny tiny patterns, this time for the elements of embroidered shirt waists. Now, the embroiderer could order the perforated patterns and transfer them onto her own fabric, or she could order the patterns already stamped onto fabric, ready to embroider and then cut out and sew up into a wearable garment.
In any case, the pattern representations shown in the catalog are very, very small.
Here, again, are some tiny designs for "splashers" (hangings for behind the sink or tub area, where a child was bathed). They're not large enough to reproduce, as is, into a piece of embroidery (unless it's a miniature piece of embroidery).
And here's a group of tiny pansy sprays, for handkerchiefs, tea towels, or the like, depending on how the embroiderer wanted to use them.
When providing a pattern here on Needle 'n Thread, it would be quite useless to offer you a design that's the same size as the designs in the actual catalog. Unless you're into painstakingly small embroidery, what would you ever do with them?
So instead, when I see something in a catalog that strikes me as a good design to share – something that I think others might like to stitch into something fun – I go about reproducing it in a larger size.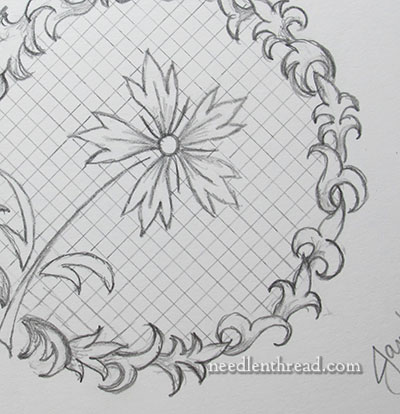 Sometimes, I might incorporate the element into a sketch. And then, as the sketch develops closer to something I like better, I'll scan it and turn it into a vector drawing (which is not necessarily a quick process!).
Other times, I might see a design in a catalog, and focusing on one element of the design (like I did with this Exuberant Flower embroidery pattern), I'll just scan the design from the catalog in a high resolution, crop it, and then reproduce the element as a vector image.
About Vector Images
A vector image, for those who don't know, is a drawing done on the computer, to create a smooth-lined image that can be enlarged or reduced without losing clarity.
Adobe Illustrator is probably the best-known professional program for creating vector images, but it is quite expensive. Inkscape is a share-ware program that you can download for free that also is used to create vectors, and it's probably the easier of the two to learn, especially if you don't have other experience with Adobe products.
I use both interchangeably, as they both have different features that I like. There are some things I like to do in Illustrator that I don't like doing in Inkscape, and some things in Inkscape that I think are done more easily and quickly than in Illustrator.
It Still Takes Time
When it comes to turning a design into a vector image, it is not done magically by clicking a button or two. Although there are "trace" options in vector-producing software, they rarely (if ever!) supply a perfectly finished image.
Vector vs. Sketch
I like sketching out my design ideas, and whenever I'm about to embark on a large project, I always sketch first, and I use colored pencils or water colors to work out color schemes.
But when I put a free pattern on the website, I put it on as a clean line image (a vector image, saved as a PDF for easy printing) rather than a sketch, because I figure that, if you want to use an image as an embroidery design, you don't want a messy sketch. You want clean lines, right?
I hope this helps answer some of your questions about producing individual embroidery patterns from old catalogs. If you have any other questions, though, I'm all ears! Feel free to ask below!