Here's a free hand embroidery pattern for you – a design that would make a great piece for practicing openwork fillings, like the kind used in different types of pulled thread and drawn thread embroidery, Schwalm whitework, and the like.
Of course, the design can be used for any type of surface of work, too. Feel free to experiment!
Above is the single version of the design, perfect for a small piece.
But if you want to Go Big, you can do this: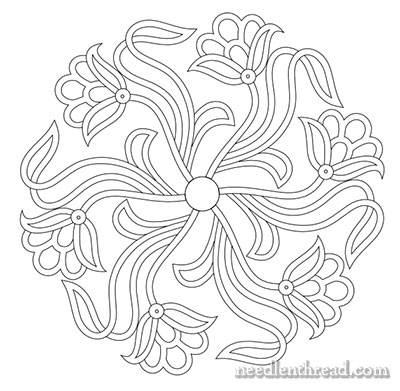 This piece was inspired (with a few alterations) from a Battenburg lace design in an old needlework catalog. You can see how the structure is suited to Battenburg lace, but if you look beyond Battenburg, I think it also works well for surface embroidery of different types, other types of whitework and needlelace, and all kinds of fun options!
I can't help thinking it would also make a great paper cut… or a neat piece of stained glass.
Here are the PDFs, for easy printing:
Single Openwork Flower Hand Embroidery Pattern
Openwork Flower Round Hand Embroidery Pattern
Enjoy!
You can find plenty of other free hand embroidery patterns here on Needle 'n Thread, right here in the free pattern index.
Looking for inspiration & information on hand embroidery?
There are all kinds of reasons to sign up for the Needle 'n Thread daily newsletter! Check them out and sign up today!