Good morning, peeps! It's a lovely Friday here in Kansas – cold, but warming up later today. The sun will shortly be rising, the kids will shortly be walking past on their way to school, I will shortly be doing some needful chores, and shortly, the weekend will be upon us.
I'm not sure why, but Friday always seems to be the shortest day of the week. It's the day I want to savor. But there's never a chance. It flies by – and the next thing I know, bam-o! It's Monday again.
Today – the 15th – is the day I sit down and work out wonderful things for Needle 'n Thread. I brainstorm article ideas. I sketch in a publishing calendar for the next month. I write up lists of things to do and prioritize them. I see if I have all the supplies I need to accomplish what I need to accomplish in the next month, and if not, I order them. It's the mid-month prep for the next month (and sometimes, beyond.) And I love doing it.
Which brings me to the point that Christmas is coming – I'll be preparing my To Do Calendar around that fact today – and if you didn't win today's give-away, you should definitely put one of these beautiful and exceedingly handy tool caddies on your Christmas list! I've grown really fond of mine. It's a terrific tool for any workspace, but especially if you have a tight workspace. It keeps a lot of tools together in one neat space, and it does it while lookin' good.
Rarely do I look good when I'm being serviceable, but it's nice to see that my tool caddy can manage it!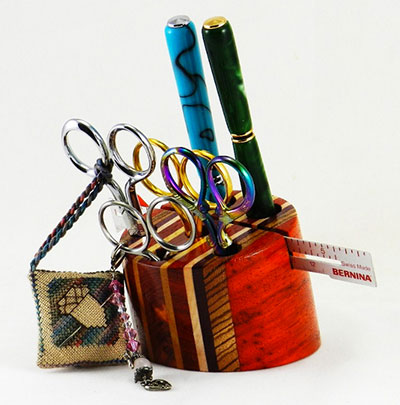 You can find the tool caddy on Etsy, at JR Crafter. Right now, I think they're sold out, but keep an eye on the shop. Hopefully, they'll have some in before Christmas.
Remember, these are hand made by a father-son team, each one individually crafted and beautifully finished, and craftsmanship like this takes time.
In the meantime, though, here's the lucky winner:
PJ in Texas!
This is PJ's response to the very intrusive question I asked about organizational habits while stitching:
I am defintely a disorganized stitcher. I try to get organized several times a week, and then I find something I was looking for a month or two ago…
This tool caddy looks wonderful, and also small enough to tuck into a corner of a traveling work bag!
Congratulations, PJ – please drop me a line with your mailing information, and I will send that along to the folks to JR Crafter, who will be sending you the beautiful little caddy.
Speaking of PJ, I'll close with a quote from my favorite movie ever:
PJ! I like that, you know! I do!
The first person to comment below with the name of the movie AND finish the quote, will receive a $25 gift certificate, courtesy of me, to my favorite needlework shop. If you chime in, make sure your email address is correct on the comment form.
Just a little Friday fun. Why not?
Enjoy your Friday!