I'm in a kerfuffle. A kerfuffle is a fuss, usually caused by conflicting views.
Did you know that the angle of viewing your embroidery can change the way you feel about it? It can! And when different angles of viewing your embroidery conflict, you end up in a kerfuffle.
And that's where I am.
To add to my kerfuffle (I promise you it really is a word), this is not really today's article – today's article got hijacked by the kerfuffle, because I need your feedback!
See the yellow-orangey swash in long and short stitch there? There's something about it that bugs me. From this angle, it doesn't look all that bad, I suppose.
I wish I had a slightly darker yellow than the middle yellow for the tip, rather than the orangey yellow, but I don't, because the thread I'm using doesn't have a slightly darker yellow option in that color range. I'm ok with the orangey yellow, but I don't love it.
But that's not my kerfuffle. My kerfuffle is that there's something about the shading that bugs me.
Maybe if you look at it and squint, you'll see what I mean?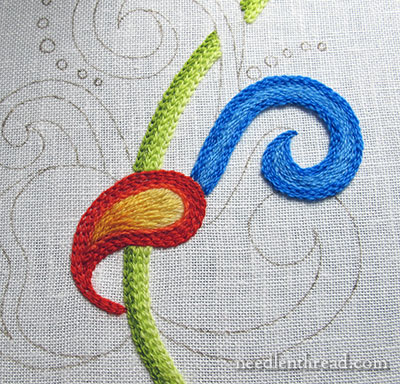 Did you squint?
From farther back and with the red finished, it bugs me less. But still, but still…
Let's turn it a little bit and look at it at an angle.
From this angle, with the lighting as it is, you get more shadows on the individual stitches, and the thing looks rough, indeed. But you can also see better what's bugging me.
Is the orangey-yellow shading just too abrupt? Is there too much of a definite line where the shade changes?
A different angle altogether! You can see that the orangey-yellow does stretch into the medium yellow with a few stitches, but I think that the medium yellow needs to stretch farther down into the orangey-yellow, to soften the transition between the two colors.
Notice, too, that the stitches look much smoother from this angle, because the light is not creating harsh shadows from the individual stitches.
Now we're completely upside down. The stitches look smoother here, too, but … there's still that definite, clear transition into orange.
Don't pay too much attention to that dark blue swash coming off the red on the lower right. I think that's going to go! But woe is me – picking out wool threads worked with long and short stitch is so very messy!
I like the red tambour work around the middle swash. I'm not necessarily sold on the color combination, but the red worked up nicely in the tambour chain stitch.
So, my kerfuffle: Is the orangey-yellow transition irritating enough to go back and make changes? Should I sneak in some stitches to see if I can repair it, before giving it up completely and picking it out? Or should I change the color scheme altogether and switch the yellows to a different color?
I'd love to hear your take! Feel free to leave your comments below!