How often do we actually think about the threads we stitch with? What do we know about them and the way they behave? I like to occasionally explore these questions by looking at threads up close, because it's helpful to know a bit about embroidery threads when making thread choices for embroidery projects.
So the other day we discussed the differences between coton a broder and floche.
Today, let's line those two threads up with more familiar cotton embroidery threads: perle cottons and regular 6-stranded floss.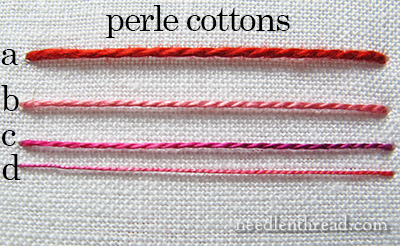 Perle cottons are up first. You may or may not be familiar with perle cotton. It's the stuff you find on the wall in the craft sections at hobby stores, in twisted skeins or wound into small balls of thread. You can also find it at needlework shops, especially those devoted to needlepoint, because perle cotton in the larger sizes is often used for needlepoint.
Like the floche and coton a broder we discussed earlier this week, perle cotton is a non-divisible thread, which means you use one strand of it as it comes off the skein or ball. You don't break it down into smaller sizes. If you try to break it down and stitch with it, you'll find that the thread strength is compromised, and the thread will shred easily and fall apart.
The four common sizes of perle cotton are featured in the photo above. From top to bottom, these are the size numbers:
a – size 3
b – size 5
c – size 8
d – size 12
Remember, the higher the number within any line of thread, the finer the thread.
Sizes 3 and 5 are heavier, used often for needlepoint and sometimes for surface embroidery. Sizes 8 and 12 are relatively fine threads, often used for tatting and crocheted edgings and the like, as well as for embroidery.
Crazy quilters love perle cottons, because they work extremely well for stitching decorative lines and bands.
Perle cottons are also favorites with hand-dyers, which is why you can find many specialty colors and over-dyed perle cottons available through individual small thread-dying businesses.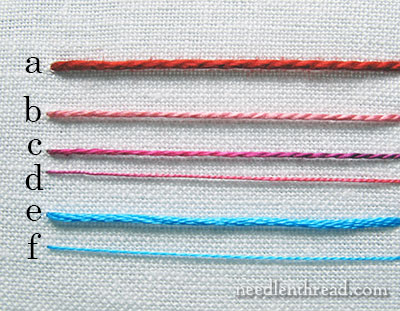 Now, let's throw the ever-familiar 6-stranded cotton floss into the mix. In the photo above, "e" is a full six strands of floss, while "f" is one strand taken from the six.
You can see that, of all of the above threads, one strand of regular stranded cotton floss (f) is the finest in size.
Stranded cotton (called "floss" in the States) is a divisible thread, up to a point. After you pull the full thread from the skein, it can be separated into 6 finer strands, each of which can be used for very fine embroidery, or which can be put back together in any number of strands, for increasingly bolder lines.
Once you get down to the single strand, though, it cannot be further divided for use, or it loses its strength and integrity.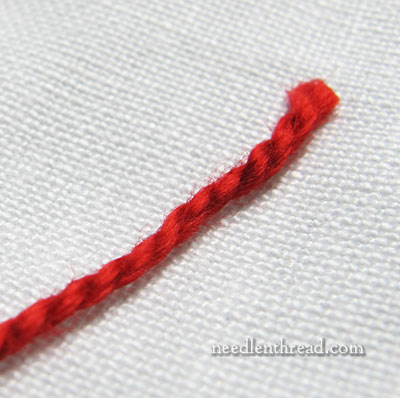 All of the threads above (including the stranded cotton) have the same construction. The photo above is perle cotton #3 up close.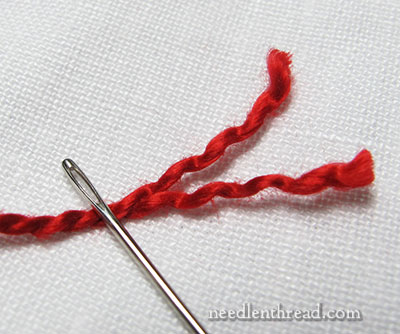 If you separate the twists, you find that perle cotton is constructed of two plies of thread twisted together in a relatively tight twist.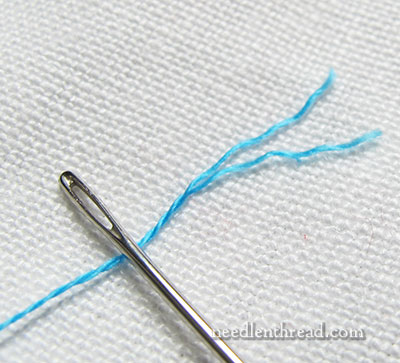 If you separate the twists on one usable strand of cotton floss, you can see that it is also made up of two plies of thread twisted together.
Cotton floss is not as tightly twisted as pearl cotton. It has a much softer twist, making it more suitable to certain types of embroidery, especially satin stitching and long and short stitch. There's more "spread" with floss, because of the softer twist.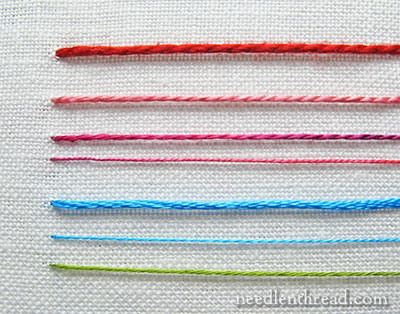 And now, we'll throw some floche into the mix. We already discussed floche in detail here. In the photo above, it's the green thread at the bottom of the photo.
Notice that it is heavier than the single strand of floss, and it seems to correspond size-wise to the #12 perle cotton, which is right above the thick bright blue floss. However, they're not quite the same size, and their construction is different, so the threads will behave differently when you stitch with them.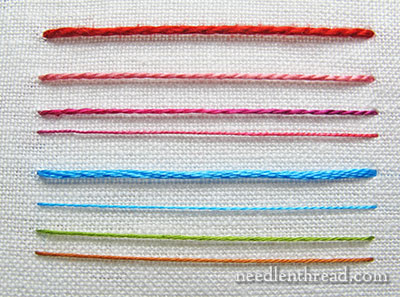 Finally, the burnt orange strand below the floche is coton a broder #25, discussed in detail here.
So now you can see all these cotton threads lined up next to each other, to get an idea of their relative size.
Thread Similarities
All the threads above are mercerized (they have a sheen, brought about artificially by a chemical process).
They are all s-twisted threads (you can read about the difference between s- and z-twisted embroidery threads here).
They are all made up of a certain number of plies, twisted together to make the usable strand of thread.
Thread Differences
They differ in size.
One thread featured above is divisible – the regular stranded cotton floss that breaks down into six usable individual threads.
They differ in number of plies twisted together to make the individual strand: perle cottons and floss are made of two plies; floche is made of five plies; coton a broder is made of four plies.
They differ in the tightness of the twist used to combine the plies. The stranded cotton and the floche have the loosest twists, coton a broder falls in the middle, and perle cottons have a tighter twist.
How Does this Affect your Embroidery?
What it boils down to is this: the weight of the thread (the thickness) and the degree of the twist (and the number of plies) make a difference in the way stitches look. These characteristics affect the size of stitches, the way the stitches work together and fit together, and the way the stitches reflect light. And all of these points influence the outcome of your embroidery.
We'll examine this point visually with some stitched samples later this week!
Questions? Comments? Suggestions? Have your say below!