In my workroom, I now have six eight- and ten-drawer cabinets that I use to store all my embroidery threads in.
The cabinets are not quite tall enough to support a table top at normal sitting height, so they are lifted on plinths so that they can support my work table. Three cabinets fit tidily at one end of the table, facing outward, and three fit at the other end, facing outward. Right now, the table is slightly smaller in depth than three cabinets side-by-side, but eventually, once the budget allows it, I'll be-take myself to the lumberyard, where I'll have a custom 6 foot long tabletop made to fit the depth of the cabinets.
At that point, my workroom thread storage and worktable set-up will be complete. The set-up didn't happen overnight – it took me three years to acquire the cabinets, buying a couple each year from The Container Store, when they have their yearly sale (which made a difference of $70 per cabinet).
I've found the cabinets a great way to store my whole thread sets. But I still need to finish my inventory system! And that takes a little time!
But for those who don't have space for cabinets, here's a great way to organize and store a complete line of threads with a built in inventory system, so that you can easily see what you have and what you're missing.
This is not my idea! And I didn't even do the work! Wendy at The Silk Mill did it for me, and I think it is a clever, handy, and compact way to organize an at-a-glance system for embroidery thread sets.
It does require a little bit of an investment if the thread set is a large one, but not as much of an investment as a whole piece of furniture.
Wendy used the DMC StitchBow Binder Inserts to organize my full thread set from The Silk Mill.
She did this as a favor – thank you, Wendy! – so if you order silk thread from The Silk Mill, please don't expect it to show up in the binder inserts. It's such a good idea for organizing and inventorying large thread sets, though, that I thought I should share it with you in case you're going through a bout of stash organization.
So, what are these binder inserts?
Made and marketed by DMC and available in craft stores, fabric stores, and perhaps even some stitching shops, they're clear plastic pages that fold in half, with 15 slots to each page to store 15 skeins of embroidery thread.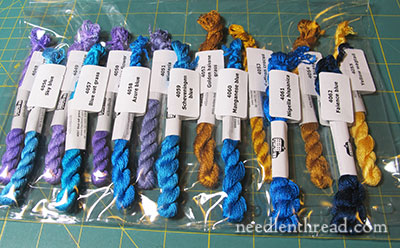 The slots on each page are off-set, so that when the page is folded in half, the page with the skeins inserted is as compact as possible.
At the edge of one side of each page, there is a series of binder holes, so that the page can be inserted into practically any type of 3-ring (or otherwise) binder. DMC makes a variety of project bags that include a binder area for these StitchBow inserts, but any binder will work.
For a whole thread range, you could purchase several large 3″ (or larger) office binders to hold the threads. Another idea? Photo album binders – and to find them, look at thrift stores. I found a group of several new, never opened leather photo albums recently for a whopping $3 (for all of them). Take the photo pages out, and the thread inserts fit right in. The binders can then be labeled and placed on a shelf.
To make the system an at-a-glance organizational thread system, Wendy labeled each thread slot with the color number and name.
So, if a skein is ever missing from a slot, I know exactly which color I need to order.
And to make the whole system completely hassle-free, the dear girl even labeled both sides of each thread slot. So no matter what side of the page I'm looking at – and regardless of whether the page is folded in half or flat – I can see what threads are missing.
So there you have it! With a relatively small investment in the binder inserts (you can usually pick up two for $3 – $4 in many craft stores, so that's space for 30 skeins of thread) and in labels and binders, you can organize a whole range of embroidery threads (in skeins), into an at-a-glance inventory system.
Mathwise, if you are organizing a range of threads 450 colors strong, you can figure about $60 for the binder inserts and about $10 for small labels. Additionally, you'll need binders. Large capacity binders can be expensive, though – so look at thrift shops or shop on sale. You can easily have a compact, at-a-glance thread organizational system for 450 skeins of thread, for less than $100.
It still sounds steep, but if you do invest in whole sets of threads in order to have them for design purposes, you'll understand the value of such an easy system to keep track of the threads you have.
Right now, I have all 600 Silk Mill colors at my fingertips, ready to use for selecting colors for different embroidery projects. There are 50 more shades coming out in April. That's a lot of color and a lot of thread! So thanks to Wendy for the brilliant organizational help!
Lord knows, I need All the Help I Can Get, when it comes to organization… !