I have a hard time letting go of something that's nagging me on an embroidery project. If it's nagging me, I want to tackle it and correct it right away; otherwise, it hovers like my own personal little grey cloud, detracting from the rest of the embroidery.
And that's what was happening with the outer outlines on the leaves on the Secret Garden Project. They were bugging me. I had determined to leave them until later.
But there they were, hovering. Nagging. Whispering. Constantly distracting me.
After eight failed attempts at settling on a color and a stitch for the outer leaf outlines, in steps an email from Margaret Vant Erve (if you're not familiar with her embroidered landscapes, you should be!).
She suggested one of two options: a dark maroon or a mustard yellow. I had already tried a maroonish color, but yellow – yellow never occurred to me at all!
Even though this cluster of leaves was not quite finished, I thought I'd test yellow.
At first, I tried a brownish-goldish-yellow, which is what I think of as a mustardy yellow. It didn't really Spark.
Then I thought, "Why not try the yellows I already have in mind for this project?" And so, I took the medium shade of the three yellows I'm using on the project, and tried it out.
It's a springy deep yellow – a little brighter, perhaps, than a jar of French's Mustard. But definitely yellow.
When I first tried it, because it was yellow and seemed bright-but-not-visible, I thought I'd try a more textured stitch than the stem stitch. So I worked an outline segment in coral stitch, in Palestrina stitch, and in Portuguese knotted stem stitch.
And then I picked them all out, and worked this section of the outline in stem stitch.
And I saw that it was good. It was good. It was… GOOD. I leapt from my chair! I jumped! I frolicked about! I rolled about on the floor amidst rivers of yellow embroidery floss! I Reveled in Yellowness.
(All of this is very metaphorically said.)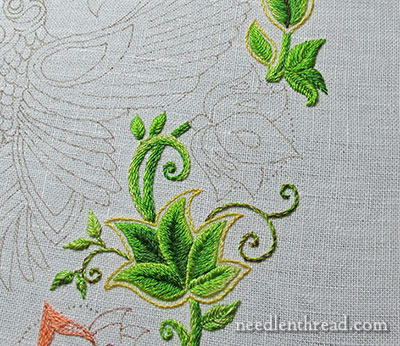 What I like about it is… well, everything! It's there – it's an outline – but it's not Boldly There. It doesn't detract. It's bright yellow, so it contributes to the springy, lush effect of the leaves – kind of like a glowing halo around them. It blends while accenting the green.
(That leaf cluster still has a bit of work to do on it, in case you're wondering about it.)
Once I finished a completely yellow outline on one leafy element, I said to myself, "Margaret, you're a genius."
And then I said to myself, "Self, you're a dolt. Never even a thought for yellow? Yellow is so … happy."
And that is why 15,000 heads are better than one.
In the scheme of things, the yellow definitely works. There will be quite a bit of yellow on the flowers, too. In the photo above, you can get a sense of the first splashes of non-green color.
The base of the flower is yellow, and on this particular flower, all the tear drops will be yellow, and the stamens that will come out of the flower like a fan behind it will also be yellow.
The DMC colors of yellow that I've picked out for the project are 742, 743, and 744. I'm using 743 as the outline color.
Even though I started a flower, I'm still plugging away on leaves, too. Later on, we'll look at the flower up close and we'll talk a little more about leafy things.
And now, I'm off to buy a yellow car, paint my house yellow, paint my room yellow, buy a canary, and eat bananas and lemons until the end of my days.
If you'd like to follow along with the Secret Garden Hummingbirds project, which features a design from "Secret Garden: an Inky Treasure Hunt & Coloring Book" by Johanna Basford, you can find all the articles relating to this project arranged in chronological order in the Secret Garden Project Index. Among the articles, you'll find plenty of tips and techniques that will help you with your own embroidery projects.