Arts & Crafts. Libraries.
I love arts & crafts. I value the things made by artists and craftsmen. And I value the gift of being able to make things.
I love libraries. And I love the riches within libraries. Books are as much a part of my life as embroidery is. If people only knew the Treasure that is The Library! Whole worlds of wonder reside in the library system. It's just a matter of knowing how to tap The Library as an inexhaustible source of inspiration for artisans and crafters.
So… when rare books librarian and knitter-stitcher-bibliophile Jessica Pigza asked me to participate in a book she was writing that combines the Library with Arts & Crafts, how could I say no?
The result of that happy combination: BiblioCraft, by Jessica Pigza. It's a completely different twist on arts & crafts and inspiration.
The whole point of BiblioCraft: "A Modern Crafter's Guide to Using Library Resources to Jumpstart Creative Projects."
Whether a modern crafter or a traditional artisan, the reader will discover that the treasure in this book is the librarian's inside scoop on how to make the most of the resources available in the library system, to find inspiration.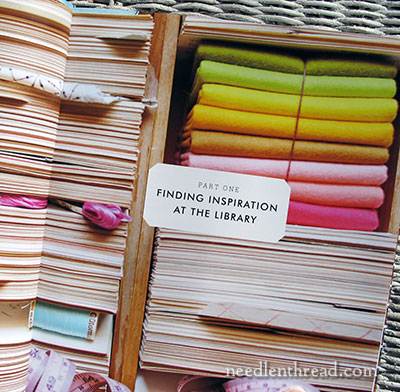 The first part of the book is dedicated to Finding Inspiration at the Library.
Since Jessica is a rare books librarian, you can probably guess that she isn't talking about the inspiration-seeker taking a cursory glance around the neighborhood library building, hoping that a hovering Muse will attack.
No, no. Jessica goes into detail about how to use the library – and the whole library system, both offline and on – to find information and images on any subject of interest to the crafter and artisan.
In part one, you'll find sections on the following topics:
Different Types of Library Collections
Finding the Right Library for You
Planning Your Library Visit
Finding What You Want at the Library
The World of Digital Libraries
Recommended Library Collections (this is a Fantastic Resource!)
A Copyright Primer
This is not the grade-school visit to the library that we remember from our childhood days. This is an adult's resource for getting the most out of a library. It's invaluable, and even as a professional teacher and not-too-long-ago grad student with good library skills, I read this section eagerly and learned a lot.
It awakened in me a yearning to get back to the library again on a regular basis. It wasn't hard to make a resolution to do so!
But for those who can't make it to a library, you'll appreciate Jessica's insights to digital libraries and her list of digital resources for art-related research. Good stuff!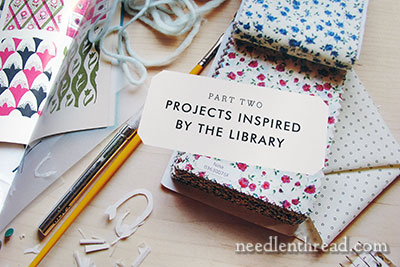 The second part of the book is dedicated to Projects Inspired by the Library.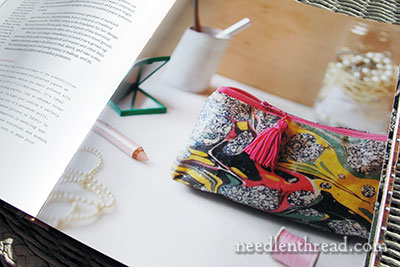 Here's where you'll find a variety of arts and crafts projects that combine something of the library in their make-up.
For example, the pouch above (by Jodi Kahn, of Simply Sublime) is made from printed fabric from an image of decorated papers typical of the endpapers on the insides of old books.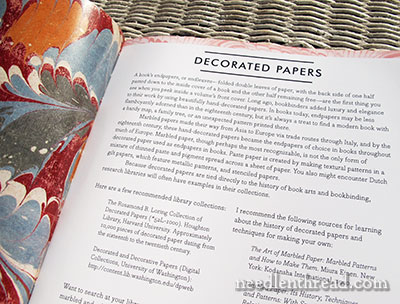 Following the project is information on decorated papers, their history, and resources for further research.
How about some embroidered pillows (by the author, Jessica Pigza) inspired by watermarks on handmade paper?
Following, you'll find information on the making of paper and where you can find collections and images of the watermarks impressed upon handmade paper back in the day.
How about an embroidered tea towel, with an image inspired by ornamental penmanship? (by yours truly…)
Just as with the rest of the projects, you'll find the pattern and instructions to complete the project. You'll also find excellent resources for collections of ornamental penmanship that are perfect for adaptation into embroidery.
Incidentally, I created two versions of the penmanship project for the book. I preferred the finished tea towel, though, and I'm glad that's what they chose! There's a good lesson about framing embroidery in the story – so more on that, later.
For paper craft enthusiasts, you'll love this quilled willow pendant by Ann Martin of All Things Paper (such a beautiful blog!), inspired by decorative bookbindings – and you'll find all kinds of resources for exploring decorative bookbindings through the library.
You'll find library resources for Millinery Arts to go along with this wool rose fascinator…
…and library resources for map cartouches and other cartographic arts, to go along with this embroidered cartouche quilt tag by Rebecca Ringquist.
How about a stenciled tote, with radishes? The library connection: World War II Victory Garden art and propaganda posters. Want to know where to find Victory Garden images? It's in the book!
And for those into the culinary arts, cookbooks, historical cookbooks, and so forth, there's a section of resources for you, too – accompanied by this embroidered "Cuts of Meat" table runner (which I think is adorable – must be my grandfather-the-butcher shining through).
And that's not even all the projects – just a handful. There are over 20 different projects inspired by the library in the book, from sewing projects to paper crafts to projects inspired by heraldry to projects inspired by children's literature. The projects are varied and fun!
With each project, you'll find the librarian's tips on where you can go to research the related topics and find other images, artwork, and information to inspire your own projects.
See what I mean by a different twist on the craft book? BiblioCraft is not just a "how to" project book, but oh-so-much more, because it teaches you how to use the library to glean inspiration so that you can conceive ideas for your own projects.
It's fun! It's informative! It's perfect for stitchers who want to design their own pieces but aren't sure where to look for inspiration. It's perfect for giving as a gift to young people just getting into arts and crafts. I'm definitely giving it to my niece – not only for the fun projects, but so that she can learn the super-valuable lesson of how to use the library well.
Where to Find It
You can find BiblioCraft available through the following book affiliates:
In the US, you can find BiblioCraft through Amazon.
Worldwide with free shipping, you'll find BiblioCraft available through Book Depository.