Have you even looked at a piece of vintage embroidery – say, a gorgeous whitework monogram with its satiny smooth surface and incredibly detailed adornment – and thought, "Wow. They just don't make 'em like they used to!"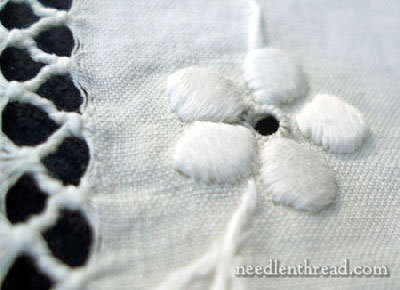 Maybe you've looked at just the smallest, single detail on a piece of exceptionally fine whitework and wondered, "How did someone hand embroider that tiny flower so smoothly, so perfectly, and where can I find that thread, so I can do the same thing?"
Where can you find the thread? Chances are, you can't.
One of the reasons they don't "make them like they used to" is the difference in available embroidery materials today.
We may enjoy an "embarrassment of riches" these days, but, when it comes to threads that were widely available less than even a century ago, in many cases, we don't have them anymore.
Tricia over at Thistle Threads has talked about this recently, and is doing something about it when it comes to 17th century embroidery threads.
Still, we don't have to gaze as far back as the 17th century to see the discontinuation of beloved embroidery threads. Let's just take simple whitework threads, for example. They aren't nearly as expensive to produce, they're made from a relatively abundant resource (cotton), and yet, several types of "classic" cotton embroidery threads have disappeared in just the past decade or so.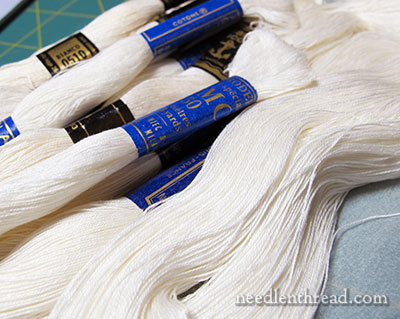 For fine whitework, for example, coton a broder used to come in a variety of finer thread sizes. It's been just within the past 8 years that size 40 has disappeared from the market.
Size 50 coton a broder bowed out before size 40. Size 35 is practically impossible to find now – it used to be available through Lacis, but no longer is.
I still have a little bit of coton a broder 40 and 35 in my whitework thread stash. But I never saw coton a broder 50 in my life time, because, by the time I knew enough about whitework and the threads used for it to seek it out, it was already gone.
So you can imagine the excitement – the thrill! – of receiving an amazing treasure from Italy from Stefania Bressan, author of Guida al Ricamo Hedebo or Guide to Hedebo Embroidery. Stefania came across an unsold supply of DMC coton a broder 50 in a shop in Italy, and bought up all they had. She shared several skeins of this precious hoard with me, and now, for the first time in my stitching life, I've had the pleasure of seeing this extinct thread and actually stitching with it.
And now I really do understand why "they don't make them like they used to," when it comes to fine whitework monogramming. The size 50 is so much finer than our finest size (30) available today. It is lovely, soft, delicate.
I'm not one to pine for things that aren't. I tend to be pretty practical. "Make do with what you have" is one of those mottos I grew up with, and it stuck. But I can't help wondering about the demise of these finer whitework threads, and wondering if they will ever come back.
There's certainly a resurgence of interest in fine whitework these days, with all types of surface embroidery enjoying a growth in popularity. But the question ever remains: is there enough of a market to encourage a thread company to bring back extinct threads? My guess: probably not. I suppose there's always the possibility of a smaller thread company looking for a niche market to produce these types of threads again, but I think the possibility is pretty slim.
So this brings me to the whitework threads we do have available. I find myself thinking of these threads – coton a broder 30, 25, 20, 16 (the only sizes left) – in terms of muscle atrophy: "Use it, or lose it."
The needlework industry may seem to be a thriving industry right now. We do enjoy an embarrassment of riches! But it's also an uncertain industry, reliant on consumer interest and trends, intrepid entrepreneurs, and a small pool of skilled laborers who create and maintain the stocks of the specialty threads that we use.
Just a little something to think about…
I'm waxing thoughtful on the subject of whitework threads because I've been using them lately – I'll show you some dabblings down the road.
What about you? Any thoughts on the needlework industry? Any threads or supplies you miss, that used to be available? Any observations about the comings and goings of supplies? Any harrowing experiences trying to track down hard-to-find supplies? Or anything on the market that you've noticed is harder and harder to come by? It's definitely a subject worth of discussion, so if you have any thoughts or input, leave a comment below!