As promised last week, when I reviewed Susan O'Connor's book, Monograms: The Art of Embroidered Letters, today, I'm giving away a copy!
If you'd like to add your very own copy of this wonderful, lovely, instructive, exquisite book to your needlework library, read on, my friend…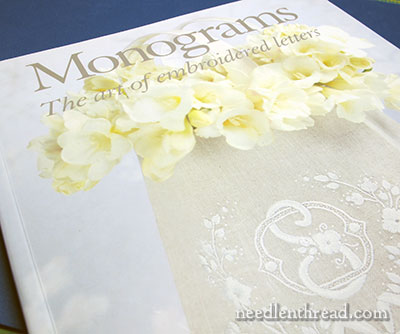 As I said in my review, this is definitely a book you want in your needlework library, if you have any interest in the traditional methods of creating exquisite embroidered monograms.
The book (at the moment) is somewhat rare – although I have it on good authority that it is still available in French through Amazon France – but it is being re-printed and will be available later this year, in August.
If you can't wait until August – or if you want to save the book money to buy supplies (and who wouldn't?) – then feel free to enter today's give-away! I'll send the book to a randomly drawn winner, anywhere in the world.
Give-Away Guidelines
This Give-Away is Now Ended
1. To enter today's give-away, leave a comment on today's article, on the website, by following this link to the comment form. Comments sent in via email (by reply to the daily newsletter) or left on other articles are not eligible. If you aren't sure where to go to leave the comment, just click this link and it will take you directly there!
2. In your comment, answer the following:
What appeals to you most about hand embroidered monograms? (Is it the personalization? The elegance of them? The timelessness of them? The techniques used, which can translate into other types of embroidery? Is it a nostalgic thing? Is it that you love the threads and stitches used? Etc.) Just tell me why hand embroidered monograms speak to you.
3. Please make sure you leave a recognizable name on your comment, either in the "name" line on the comment form, or in the comment box.
4. Leave your comment before 5:00 am (CDT – Kansas, USA), Friday, May 30th, and I'll announce the winner that day. The winner will need to contact me with a mailing address.
That's it! Easy as buckling your shoe one-handed while standing on your head, right?
No, it's easier than that, I promise!
I'm looking forward to reading your answers to the question – that's the Most Fun part of the give-away, for me. I love hearing why people like different types of embroidery or why they're drawn to them!
Go to it, then – and heaps of luck to you!