Sounds like the beginning of a corny embroiderer's joke, doesn't it?
It never fails – if I write about any kind of whitework on Needle 'n Thread, I always get questions about whether or not it can be done with colored threads.
And that's what happened yesterday, when I wrote about cutwork.
Cutwork embroidery can certainly be done in color. It doesn't quite fall under the very general umbrella of "whitework embroidery" when it is, though.
I picked up the tablecloth above for my Mom's table, off eBay. It's cutwork. And it's done in color.
If it were really good cutwork done in white on white on exquisitely nice linen, it would look much more formal than it does. But done in color (and in mediocre-quality embroidery, to boot!), it's a nice, pretty balance between the formality of Richelieu cutwork and a plain embroidered tablecloth.
It's a large tablecloth, and it came with 10 matching napkins, which is a little short of what we would use if my whole family were gathered. But still, it wasn't a bad price, and the tablecloth, from a distance, is pretty. It works well on my mother's table.
Of course, it's prettier when it's ironed. But…oh. Ironing. I have a strange, deep-seated aversion to ironing large tablecloths. And while I rarely mind going the extra mile for you all (in this case, it would have been the extra hundred miles!), I couldn't bring myself to face it, just for a quick photo or two. Do you forgive me?
Anyway, the embroidery is mostly satin stitch, stem stitch, and running stitch, with cutwork bars and some drawn thread work in the middle of the central flower.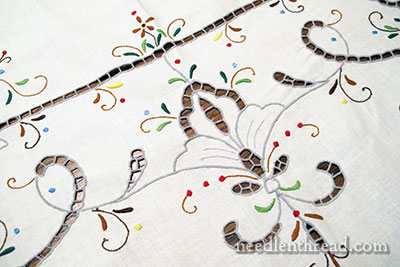 While the embroidery would have been time-consuming, and while it is certainly done by hand, it's not professional quality at all. But I still like it. Embroidery doesn't have to be perfect to be likable!
There's no tag on the piece, and no remnant of a tag. So I'm not sure if this was a personal piece of embroidery worked by someone who was very persistent about completing such a large project, or if it was a cheap import at some point in time.
Who knows? Whatever the case, I still like it.
But this is the thing: this can be called cutwork. It can't be called whitework.
Whitework embroidery done in color is called….
…wait for it….
Embroidery!
So, for those who ask, "Can I use the same stitches in whitework embroidery, only do it in color?" or "Can I do whitework embroidery in color?"
My answer: Of course you can!
Just don't call it whitework. Because it's not. It's embroidery.
If you employ cutwork in it, you can call it cutwork. If you employ drawn thread work in it, you can call it drawn thread embroidery. If you include openwork and needlelace and so forth in it, all in color, you can call it openwork. You can call it needlelace. If you take a "whitework" embroidery design from a book dedicated to whitework embroidery designs, and you stitch it all in color, you can call it embroidery. You can call it surface embroidery if you like.
But don't call it whitework.
Whitework implies white threads.
Whitework generally implies white on white embroidery, but at a stretch, I'd say you can even do whitework on a colored ground fabric and still call it whitework. But you can't do "whitework" in colored threads and call it whitework.
Why not?! you rightly ask. We do it with blackwork. We see blackwork all the time in color today, and it's still called blackwork!
Aye. There's the rub.
Well, this is the thing: the stitch and patterns used in blackwork are recognizable as belonging to blackwork.
But the stitches used in whitework of all types – what are they? They're … buttonhole stitch, chain stitch, detached chain stitch, stem stitch, running stitch, outline stitch, French knots, satin stitch… the list could go on and on. They're just surface embroidery stitches.
So what makes whitework whitework?
White thread!
The End.
Any opinion? Discussion input? Questions? Feel free to leave it below!