Oh dear. Did I just title my blog post with an '80's allusion?
I just dated myself – and if you get it, you were probably in high school then, too.
In any case, I am awash in beetle wings these days. And you might think that's a little gross, until you delve into the history of beetle wings used in embroidery and textile adornment.
Trust me, I'm not usually too enamored of bug parts in general.
But beetle wings are different. They have a certain scintillating beauty that I found very hard to resist – and very difficult to capture on camera.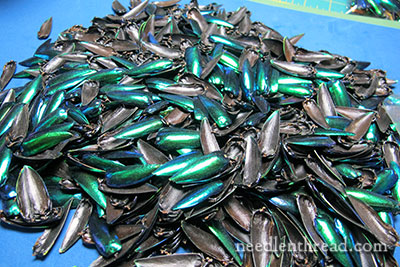 If you heard about the famous Ellen Terry beetle wing dress restored a few years ago – a dress worn during the actress's portraying of Lady Macbeth in 1888 at the Lyceum in London, and, a year later, immortalized in the portrait painted by John Singer Sargent – did you ever wonder what 1,000 beetle wings might look like?
Well, I will tell you. In a heap, they look just like that pile in the photo above.
What fascinates me most about beetle wings? I think it's the range of colors found in the elytra (or outer wing) of only one species of beetle (sternocera aequisignata). The wings range from a deep coppery color (which are somewhat rare), to a fairly solid green with just a hint of blue or yellow to it, to a brighter yellow-green, to a predominantly blue blue, and finally, to a blue that's so dark it looks purple in some lights.
I've written about beetle wings on Needle 'n Thread before, so if you want some background information, or would like to see what you can do with the things, feel free to check out these articles:
Beetle Wings for Embroidery Embellishment
Preparing Beetle Wings for Embroidery
Beetle Wing & Goldwork Embroidery Project
Beetle Wings and Shisha Embroidery
And I'll be writing a little bit more about beetle wings in embroidery later on, as I work through some samples for a magazine article. I'll also be sharing some tidbits of information about the wings and their use in textiles and other arts.
In the meantime, I've got to figure out exactly what one does with 1,000 beetle wings. I'm pretty sure I can't pull off a Lady Macbeth!