Who would ever think to embellish embroidery with bugs' wings? When I mentioned beetle wings and goldwork previously, I had not seen the wings up close in person. What a surprise! Photographs don't do them justice!
Wings from the Asian "green jewel" beetle (Sternocera aequistignata) have been used to embellish textiles in Asia for centuries. In the Victorian era, it became fashionable in the western world to add these glorious little wings to elaborate clothing and accessories. The wings are still used today to embellish textiles and to make jewelry and other decorative items. But really, who woulda thunk it? When I think "beetle," it doesn't really generate the most pleasant thoughts.
All that has changed – I look at beetles in a different light now!
A camera cannot catch the scintillating depth of colors in these wings. Predominantly, the wings are green, but some carry as well a copper, gold, or yellow tone, and others a deep blue-ish tone. The light plays on the wings to reflect almost "layers" of colors. They remind me of two-dimensional emeralds – you don't get the depth in a glassy way like you do with a jewel, but, because of the reflection when you move the wings around, the colors are deep and changing.
I've tried to photograph the wings from different angles, in different light, to see if I could give a good enough impression of their varying color.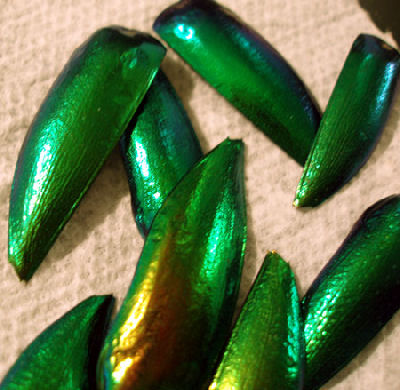 The copper-colored area on the foremost wing in the photo above isn't always that dominant! It's the angle! These are the same group of wings as in the photos above.
The wings are about the same consistency of a very strong fingernail. They don't seem to break easily, but I'm sure, with a good pressure on the top, they would.
If you happen to drop your camera on top of them – they break! The camera slipped out of my hand and landed on the whole pile – one took a direct hit, and it cracked. I broke it apart to see what it looks like. They don't chip or crack easily, though. They're sturdy.
When you hold them in your hands and shake them, they make a pleasant little chinking sound. They're very light.
When I took them outside into the sun to photograph them, the wings took on a blue tint – at least, more so than when inside. Again, they're pretty light – even the slightest breeze moved them around while I was outside.
To use them for embellishment, the wings can be steamed for five minutes to soften them, and then, using a sharp needle, holes are pierced at the tips and also on the sides, if you want (you pierce them, I assume, wherever you want to secure them to the fabric).
You can also cut the wings into different, smaller shapes, too, or trim them so that the wings you're using are all uniform in size.
You can also stitch over the wings, without putting holes in them, and attach them onto the fabric with decorative stitching, like shisha embroidery. You can find a tutorial for attaching beetle wings with shisha stitching here.
If you want to add a lot of variety in the shisha stitching, my e-book on shisha embroidery and varieties of stitches for shisha will help you out!
Where to Find Them
Now, where to get these things?
You can find beetle wings through shops on e-Bay and on Etsy. Just search for "beetle wings" or "elytra wings" and you'll end up with several options! Be aware that some places sell them in bulk, which will give you a much better deal than places that only sell, say, ten or twenty in a package. However, if you're only doing a very small project with one or two wings, then it might be more economically feasible to purchase the smaller package.
There are also some sellers who will offer color groupings, so if you're looking specifically with wings with a blue hue or a yellow hue, this can be helpful!
I hope you give beetle wing embroidery a try!