I love whitework embroidery. I love vintage and antique linens.
And, in my mind, the perfect marriage of both of these can be found in delicate whitework handkerchiefs of old.
And so, now and then, I'll pick one up from antique dealers, estate auctions, and the like.
I'm not an avid collector. But, occasionally, I will treat myself to a vintage or antique embroidered handkerchief if there is something about it that appeals to me, if there's something I can learn from it, and if the price is reasonable.
This particular handkerchief that I'm going to show you today fell into all of the above categories – I like the design, I can learn something from it, and since I was the only person bidding on it, it was reasonably priced.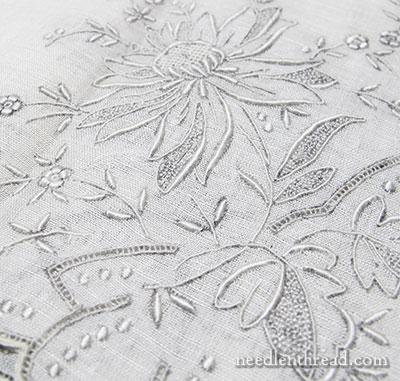 The handkerchief is embroidered on all sides and all four corners in a floral and leaf design. It features some very tiny openwork areas, padded satin stitching, some seed stitching, and a buttonholed, scalloped edge.
You can see the inking marks from the design placement on the handkerchief. It makes the piece somewhat Appenzell-embroidery-ish (Appenzell-like embroidery), but I won't go as far to say it is authentic Appenzell embroidery, because I don't know the provenance of it.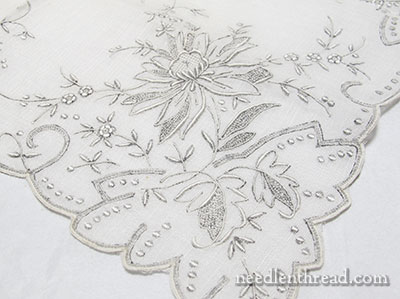 In any case, this particular piece is pretty. But I think it would be prettier without the pattern marking – or at least, with a much more faded marking that looks more silver or grey than black.
You can see that the center of the main flower is worked in an open work grid – but I'm surprised to see the pattern marking in the middle of the grid. On each flower on each corner of the hanky, there's a mark like this in the middle of the grid work.
Just to give you an idea of the actual delicacy of the piece, I placed a #10 crewel needle on handkerchief. Now, in the photo, the needle looks big – but if you know needles, you know that a #10 crewel needle is a fine, small needle.
The linen is quite sheer. That's my hand behind it.
The edge has a tiny openwork border and is buttonholed very neatly all around, but the clean-up work around the buttonholed edge is rather messy.
So, I'm thinking this piece is kind of a knock-off of Appenzell embroidery, probably made for the tourist industry.
Regardless, I think it's a beautiful hanky. But I'd rather see it without the black – or at least, with the black pattern markings faded to the softer grey more typical of Appenzell embroidery. The sharp black – and the messy clean up around the edges – makes me think that the finisher wasn't too diligent.
In any case, I'm going to clean it up a bit myself. Though not new, the handkerchief is in pristine condition – there are no holes, no stains, not age spots. It's in very good shape.
I'm going to do something to the hanky – but I'm not going to say what, yet. I'll do it and we can look at the results together. If I make a huge mistake and ruin the handkerchief, you can cry with me, berate me, or run me out of town on a rail. If what I'm planning works out (and I think it will), then you won't need to break out the tar and feathers just yet.
I'll report back later on with the results!
Any input? Any thoughts on the handkerchief in general? Any musings or wonderings about these types of antique linens? Any stories about terrific vintage embroidery finds (I love stories like that!)? Feel free to chat it up below!