Remember when we delved into tambour embroidery for a brief spell at the end of last year?
Well, I haven't dropped the subject entirely. I'm going to revisit it one of these days – and in the meantime, I've been doing some reading, practicing, studying, exploring…
Along the way, I met up with another tambour embroidery book that I think is very worthwhile to have in your collection, if you're keen on tambour work.
While I still prefer Yusai Fukuyama's book Tambour Work overall, this particular book, called Le Point de Beauvais by Mick Fouriscot and Pascale Duchénoy, offers some particular reasons for particularly liking it!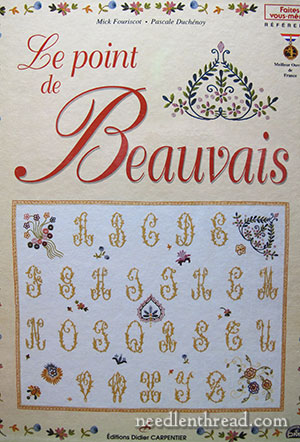 Le Point de Beauvais is written in French, but if you don't speak French, don't let this deter you!
The book is fully illustrated with detailed diagrams, so that the instruction is perfectly clear.
The book is not text-heavy. If you need or want to translate any of it, you can easily type short blurbs into an online translator to get a fairly decent translation.
The book begins with materials, including a nice photo series on setting up the tambour frame.
But real draw in this book is the instructional diagrams for tambour embroidery. They are Very Clear. They leave no guessing at all, even if there is a language barrier.
Besides the basic chain stitch, you'll also find instructions on other stitches used in tambour work, including stitches that can be adapted to a kind of long & short stitch filling approach and that result in filled areas that look like satin stitch or even fly stitch, depending on how you work the stitch.
You'll also find several projects in the book. The projects include the pattern, the suggested colors used, a close up of the finished embroidery, and stitch placement guidelines and stitch direction guidelines, where necessary.
There's a very pretty alphabet, too, that can be used for single decorative initials, or that can be worked up into a whole alphabet sampler like the one featured on the cover.
So, if you're a tambour embroidery enthusiast, or if you're trying to teach yourself tambour embroidery, Le Point de Beauvais is definitely worth adding to your library!
Finding Le Point de Beauvais
The book is available in France pretty widely. You can find it on Amazon France.
In the US, it's a little harder to come by. Lacis doesn't carry it (though they do have another book on the topic, which I'll be reviewing down the road).
In the US, you can currently find some used copies of Le Point de Beauvais available through Amazon.
You can also find it through other used book sources like Advanced Book Exchange, where you'll find more copies available and can filter by country. Remember to check where the copy is coming from and to notice shipping charges before placing an order.
Down the road a bit, I'll show up up close another tambour book and do a comparison, so you can better decide which book or books you'd like to add to your library or seek through your local library system.