Today, I'd like to share with you another embroidered monogram from the Delicate Spray alphabet – this one is an N and it's just lovely!
And then, for the fun of it, I'll add the next three letters for the alphabet – P, Q, and R.
Nupur Heise, who blogs about her needlework over at The Song of My Needle, embroidered the N from the Delicate Spray alphabet on a day when she just wanted something to stitch. And that's one thing I really love about monograms. They are elegant. They are beautiful. And they are usually manageable, as far as time is concerned.
Because monograms are generally small, they can be stitched in a (relatively) short amount of time, and at the end of that time, you have something that is lovely, something that is personal and endearing. Something that will withstand the Test of Time. And there aren't too many "quick" embroidery projects that fit into all those categories!
Nupur used one strand of regular cotton DMC floss on cotton muslin with a #12 crewel needle. Everything is worked in satin stitch, except the stem stitch stems. And the results are lovely!
Embroiderers in general and sampler lovers especially will enjoy The Song of My Needle. I love this Margret Gatis Sampler that Nupur completed in March – the pictures are fantastic!
The next three letters up in the alphabet are P, Q, and R. The P is one of those scripty P's that are slim at the top. It's a Pretty P.
Looking at the Q, you can see why either the O or the Q could be eliminated from the alphabet, as we discussed last time we looked at M, N and O.
It's often the Q that's eliminated, though. If I were going to eliminate one or the other, I'd eliminate the O. It's easier to remove that little extra swash on the Q and end up with an O than it is to draw in a well-proportioned, matching swash to create a Q!
And last but not least, the R.
I'm not sure what the most commonly embroidered monograms are, but I'd guess M and R are pretty high up on the list.
I don't know why I think about these kinds of things (does it really matter, after all?), but I do!
Monograms for Hand Embroidery – Printables
Here are the PDFs for today's monograms. The letters will print at 1.5″, 3″ and 4″ high if you choose no scaling (or a similar setting) on your printer. You can enlarge and reduce them by using the scaling feature on your printer or by using a photocopier.
Monogram for Hand Embroidery – Delicate Spray P (PDF)
Monogram for Hand Embroidery – Delicate Spray Q (PDF)
Monogram for Hand Embroidery – Delicate Spray R (PDF)
Favorite Monograms – PDF Collection
You'll find this complete alphabet – along with 15 other decorative alphabets – all in one place in Favorite Monograms, a downloadable PDF collection of 16 monogram alphabets perfect for hand embroidery and other crafts.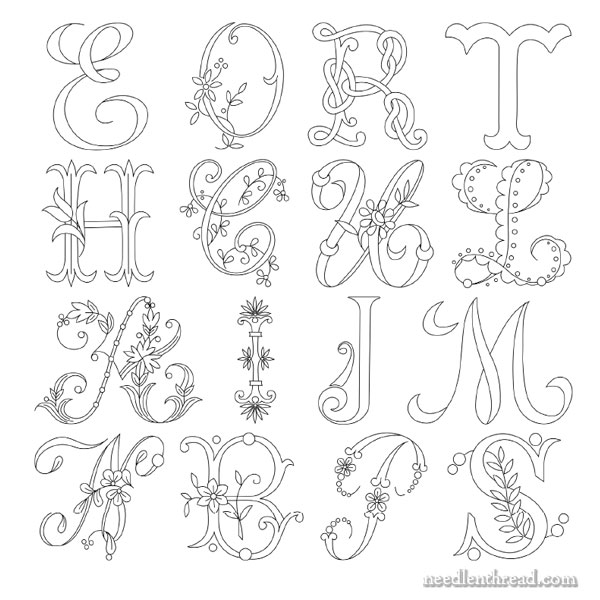 In the photo above, you can see samples of each alphabet available in Favorite Monograms.
Each letter in each alphabet in Favorite Monograms has been carefully traced into a clean line drawing that can be easily enlarged or reduced on a home printer or a photocopier.
The 16-alphabet collection is delivered as via a download link to your inbox shortly after purchase, so that you can begin creating right away! Priced at less than $1.00 per complete alphabet, monogram lovers can't go wrong with this collection!
Favorite Monograms is available in my shop, here.