After seeing (and sharing with you) Jacqueline's lovely little embroidered E, I find myself more in love than ever with this particular monogram alphabet!
I'm looking forward to taking some time to work some of the letters in the near(ish) future. Monogrammed items make perfect gifts, and I'd like to monogram some gifts for Christmas this year. That's the plan, anyway.
And that's one of the reasons I'm pummeling you with a set of three letters each week – when I do get to the point of working some of the monograms, I want you to have access to all the letters, too.
Today, the next set of three letters: the M, N, and O.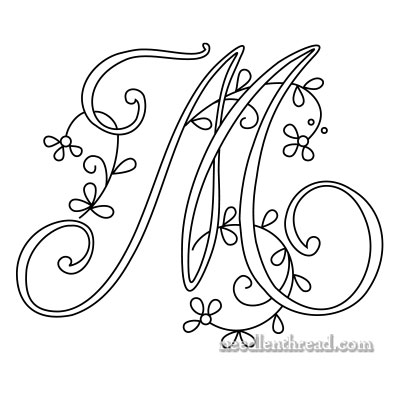 In old publications that featured alphabets to use for monogramming, the M was often present, but the W was left out. On this alphabet, if you flip the M over and remove the small swirl on the top right, you'll have a pretty good W.
I've never actually discovered a written, first-hand explanation of exactly why certain letters were left out of alphabets – the W or the M, the Q or the O, the I or the J, the C or the G – but I always figured the reason could be one of several:
1. Printing was more expensive back in the day. Making an alphabet as compact as possible to fit on a printed page made sense. Eliminating a number of letters that could be adapted from other letters in the alphabet was a good way to do this. Why print the same form (or almost the same form) twice? That space could be used for something else.
2. Have you ever tried to create a balanced layout with the full 26-letter alphabet? It's not easy. Eliminate two of the letters (especially a space hog like the W), and with 24 letters left, it's much easier to create a good looking layout!
(I really have no idea if the above explanation has anything to do with the elimination of letters in monogram alphabets of old, but if I had been making layout decisions, it would have been the main reason!)
3. I've mentioned this one before: in some languages, you simply don't see names beginning with certain letters as frequently, so the need for those letters was not as pressing. W, for example, is not a very common initial in French names, and neither is I. I'm sure names beginning with these initials exist, but they are nowhere near as common as the M or the R, for example.
Those are three common sense explanations for missing letters that come to mind. If you know of any others, I'd love to hear them!
Monogram Embroidery Pattern Printables
Here are the PDFs for today's monograms. The letters will print at 1.5″, 3″ and 4″ high if you choose no scaling (or a similar setting) on your printer. You can enlarge and reduce them by using the scaling feature on your printer or by using a photocopier.
Monogram for Hand Embroidery – Delicate Spray M (PDF)
Monogram for Hand Embroidery – Delicate Spray N (PDF)
Monogram for Hand Embroidery – Delicate Spray O (PDF)
Favorite Monograms – PDF Collection
You'll find this complete alphabet – along with 15 other decorative alphabets – all in one place in Favorite Monograms, a downloadable PDF collection of 16 monogram alphabets perfect for hand embroidery and other crafts.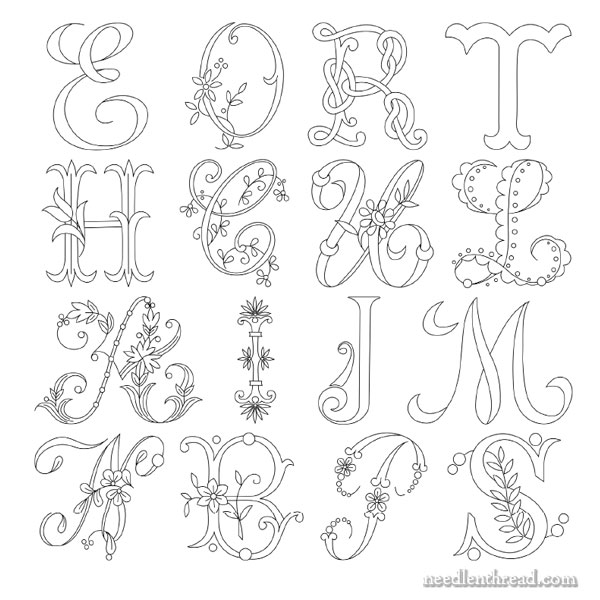 In the photo above, you can see samples of each alphabet available in Favorite Monograms.
Each letter in each alphabet in Favorite Monograms has been carefully traced into a clean line drawing that can be easily enlarged or reduced on a home printer or a photocopier.
The 16-alphabet collection is delivered as via a download link to your inbox shortly after purchase, so that you can begin creating right away! Priced at less than $1.00 per complete alphabet, monogram lovers can't go wrong with this collection!
Favorite Monograms is available in my shop, here.