Over the past several weeks, I've been sharing a monogram alphabet for hand embroidery with you. I've dubbed it the "Delicate Spray" alphabet, and you can find the other letters in the alphabet listed on this page of free monogram patterns here on Needle 'n Thread.
Today, I'd like to show you a reader's interpretation of this alphabet, to give you a good idea of how you can use traditional monogramming techniques to embroider the individual letters in the Delicate Spray alphabet.
Jacqueline used the E from the Delicate Spray alphabet to embroider a beautiful monogram for her sister's birthday. The finished letter is 60 mm high (about 2.3″). She embroidered it on white cotton muslin, which is mounted over a green sheet.
For the embroidery, Jacqueline used an older skein of coton a broder #25, which she said was a little fuzzy due to the age.
The embroidery is worked entirely in satin stitch.
The stems are overcast stitch (satin stitch often worked over a small string or a thin split stitch line).
Jacqueline split the thicker parts of the E into double lines of satin stitch.
For the dots and the centers of the blossoms, she worked tiny eyelets. Perfect!
This is a lovely example of traditional monogramming techniques! When you look at the photo, keep in mind that we are looking at it close-up. The finished monogram is just over 2″ high, so it's quite delicate.
Beautiful work!
If you'd like to embroidery any of the monograms from the Delicate Spray alphabet, you can find the alphabet (and a few other monogram alphabets) here.
You can find some tips on embroidering padded satin stitch monograms in the following articles:
Setting Up a Monogram for Embroidery
Padding the Satin Stitch on a Monogram & Other Tips
Satin stitch around a Tight Curve
Finishing a Monogram on a Guest Towel
Another Embroidered Monogram with Satin Stitch
Favorite Monograms – PDF Collection
You'll find this complete alphabet used above – along with 15 other decorative alphabets – all in one place in Favorite Monograms, a downloadable PDF collection of 16 monogram alphabets perfect for hand embroidery and other crafts.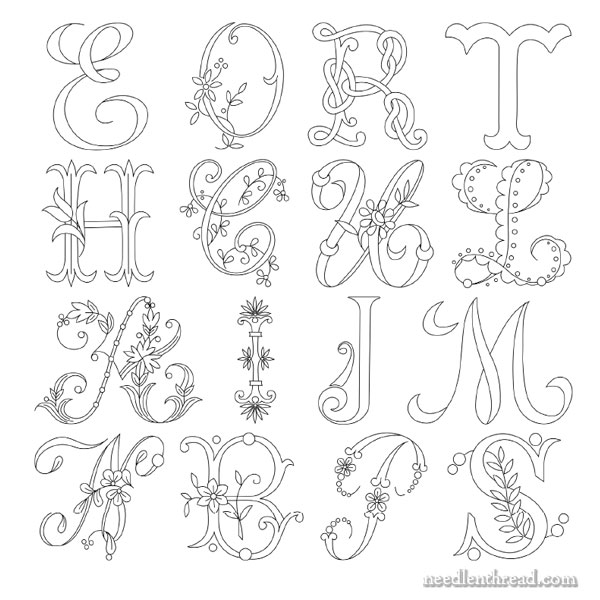 In the photo above, you can see samples of each alphabet available in Favorite Monograms.
Each letter in each alphabet in Favorite Monograms has been carefully traced into a clean line drawing that can be easily enlarged or reduced on a home printer or a photocopier.
The 16-alphabet collection is delivered as via a download link to your inbox shortly after purchase, so that you can begin creating right away! Priced at less than $1.00 per complete alphabet, monogram lovers can't go wrong with this collection!
Favorite Monograms is available in my shop, here.