Here's the E and the F in the latest monogram alphabet that I'm adding to the free embroidery patterns section here on Needle 'n Thread.
This particular E is quite pretty, I think! It's scripty, without being elongated, too scrawly, or over-formal. I like it!
I like to include some stitching suggestions or recommendations with the monogram patterns, and today, I have two suggestions, but they come from other websites, so I'll just provide links to the examples.
The first is an exquisitely embroidered monogram – somewhat similar in style – from L'angolo di Stefania.
Stephania embroidered this gorgeous letter P, outlining the outside of the letter in a darker pink, and filling in with long & short stitch in a lighter color. The flowers are worked in padded stem stitch.
You could follow the same approach with the Daisy & Rings alphabet, embroidering the lettering in long & short stitch and the rings and the flower in padded satin stitch.
The other idea for today comes from a photo on flickr – this embroidered monogram C.
The whole monogram is worked in white on colored fabric. The letter is outlined with trailing, which is satin stitch worked over a single thread for padding. The decoration is worked in padded satin stitch.
Following the same approach with the Daisy & Rings alphabet, you could embroider the floral decoration and rings in padded satin stitch, and work the letter in trailing, all in white, either on white fabric or on colored fabric. It would be lovely!
Printable Monogram Patterns
Here are the printable pages for the E and F in this alphabet. If you choose "no scaling" (or a similar setting) on your printer, the letters should print at 2″, 3″, and 4″ high. You can enlarge and reduce them to suit your needs!
Daisy & Rings Monogram for Hand Embroidery: E
Daisy & Rings Monogram for Hand Embroidery: F
Favorite Monograms – PDF Collection
You'll find this complete alphabet – along with 15 other decorative alphabets – all in one place in Favorite Monograms, a downloadable PDF collection of 16 monogram alphabets perfect for hand embroidery and other crafts.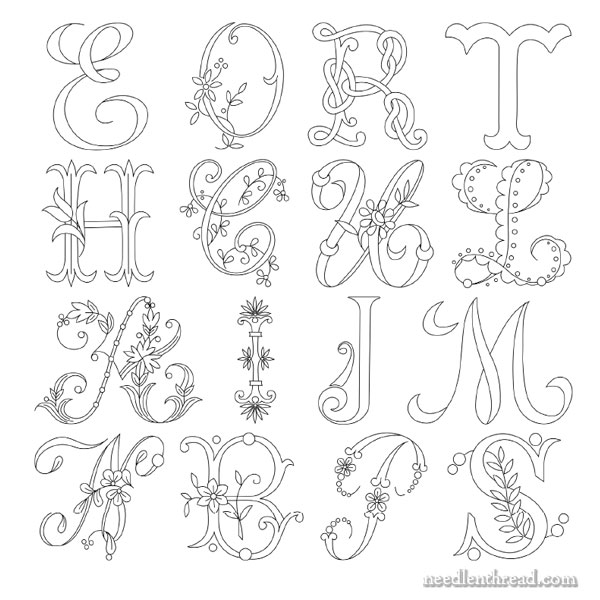 In the photo above, you can see samples of each alphabet available in Favorite Monograms.
Each letter in each alphabet in Favorite Monograms has been carefully traced into a clean line drawing that can be easily enlarged or reduced on a home printer or a photocopier.
The 16-alphabet collection is delivered as via a download link to your inbox shortly after purchase, so that you can begin creating right away! Priced at less than $1.00 per complete alphabet, monogram lovers can't go wrong with this collection!
Favorite Monograms is available in my shop, here.