Besides the Secret Garden hummingbird embroidery project, I've been doing other embroidery-related stuff behind the scenes in my little spot here in Kansas.
In particular and my main focus lately: I've been doing a lot with this stitch sampler monogram alphabet.
I wrote about it last year, as it was my Big Project last summer. The whole alphabet was finished around this time exactly a year ago.
My plan from the start was to work it into an instructional e-book so that you can mix and match a whole bunch stitches, stitch combinations, and composite stitches into a practically endless variety for embroidering beautiful letters that can embellish – well, practically anything!
And I have slowly been developing that e-book. I've received lots and lots of requests for it and questions about it in the past year. And I did indeed plan to have it finished long before now!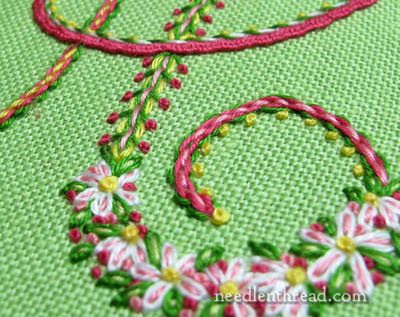 I have to admit, I loved working on many of these letters! I loved the threads I used, the stitch combinations, the complete freedom of choice, the fun of working out what goes where, the challenge of achieving variety with continuity… it was So Much Fun!
But when all was said and done, I realized the project was a bit larger than I initially imagined. I surpassed my goal of 25 stitches, composites, and combinations by quite a bit.
Instead of 25, there are about 65 stitches, composite stitches, and stitch combinations featured in the alphabet.
They all hinge on 20 or so basic stitches and grow from there.
So instead of writing instructions for 25 variations, I found myself photographing and writing instructions for 65 variations!
I've been really slow with this e-book, it's true – but…but…it's a-comin'! I'm diligently chipping away on the last variations and checking and double-checking that I haven't missed any. I'm editing photos and writing stitch instructions. And the book is progressing!
It's a hum-dinger so far, by the way. Lots of close-up photos, lots of variety, a heap of instruction that can be taken outside the book and applied to other embroidery projects. I think it's a fun book! And maybe that's part of the problem – maybe I'm having too much fun with it?
In any case, for those who have asked, yes, it is still coming. I hope you see it this fall. (How's that for a wimpy and ambiguous approach to announcing a tentative deadline?) I'll do my best!
Other E-Books
In the meantime, if you're looking for project e-books – and yes, this is some shameless shilling – why not check out some of the embroidery e-books in my wee little shop?
Lavender Honey & Other Little Things features a whole slew of small projects perfect for weekend embroidery, and perfect for gift-giving.
And the Lattice Jumble Sampler Guide is a fun approach to playing around with stitches, color, and thread.
Both of those are suitable for stash-busting, too – that is, using supplies you have on hand – so you don't necessarily have to buy new supplies for them. You might have the supplies on hand, and if not, you can always make substitutions!
Doing!
And so I shall get back to Doing! I have a lot of writing to do today, and hopefully a bit of stitching on the Hummingbirds, along with a few photographic sessions with some other embroidery stuff we'll be talking about down the road.
I hope you get some Doing in today, too – especially stitch-related doing! Because it sure beats doing laundry… doing dishes… doing schoolwork… doing work-work…
But whatever you're doing, have fun Doing it!
Looking for inspiration & information on hand embroidery?
There are all kinds of reasons to sign up for the Needle 'n Thread daily newsletter! Check them out and sign up today!