Lately, I've been sharing some photos of various samples of floral monograms that I've been putting together. When I started on this particular monogram project (not to be confused with the more "traditional" monograms I'm also working on), I had a goal: to embroider the monograms with 20 – 25 types of stitches or stitch combinations.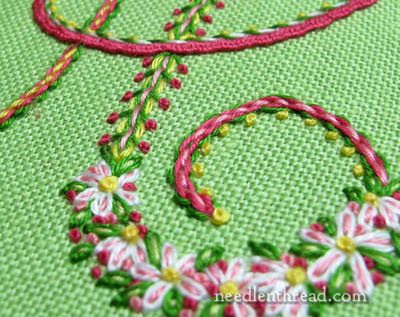 Now, that may sound a bit weird, to shoot for a somewhat extensive number of stitches or stitch combinations in one alphabet. But it's not, really. The alphabet gives coherence to a plan for stitch exploration, but the manner in which one goes about that exploration makes the outcome for each individual's embroidered letters unique.
To explain: You have an alphabet – that is, a collection of 26 designs (A-Z). Following some basic principles of stitch placement, each letter (or design) can be worked in myriad ways, using any variety of possible stitch combinations out of the 25 or so stitches and combinations explored.
Since I've received a lot of questions about the stitches being used in the floral sneak peeks you've seen lately, I thought I'd talk a little more about the stitches and combinations in the photos.
All of these stitches in the photos I've already shown you (here, here, and here) have, in some way or another, shown up here on Needle 'n Thread. They're either in the embroidery stitch videos, or they are in the Stitch Fun series, or they're at least mentioned in some random article.
So far, I've used the following stitches or stitch combinations:
Running stitch, straight stitch, chain stitch, twisted chain stitch, buttonhole stitch, stem stitch…
… backstitch, fly stitch, interlaced chain stitch, wheat stitch, feather stitch, French knots & colonial knots, scalloped buttonholed chain stitch…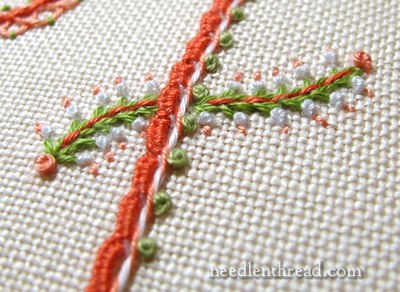 … whipped backstitch, whipped chain stitch, oyster stitch, detached chain stitch…
… cretan stitch, zigzag chain stitch, Spanish knotted feather stitch…
… up and down buttonhole stitch, Hungarian braided chain stitch, and Pekinese stitch.
There are still a number of stitches and combination ideas that I haven't incorporated yet, but plan to.
The thing is, the majority of these stitches are used in combination with other stitches, so they might be hard to recognize at first.
Take, for example, the last picture above. There are seven stitches visible in that space: detached chain (daisy stitch), feather stitch, fly stitch, French knots, straight stitch, wheat stitch, and backstitch. Can you pick them all out?
In the photo above, there are six stitches or combinations: twisted chain stitch, whipped chain stitch, French knots, interlaced chain stitch, backstitch, and running stitch.
So that's what's going on with these floral pictures I'm slowly leaking to you. As I go along, I'll continue to show you little snippets and share with you some stitches and combinations that strike me as particularly fun.
Questions? Comments? Suggestions? Have your say below!
Stitch Sampler Alphabet is Available for You!
You can purchase the e-book for Stitch Sampler Alphabet here. The e-book supplies you with all the letter designs and step-by-step instructions for stitching the letters, and for all the stitches and combinations used in the letters.
You'll find hundreds of photos to help you create your own magnificent stitch sampler letters – and you can mix and match the stitches and combinations for an endless variety!
Looking for inspiration & information on hand embroidery?
There are all kinds of reasons to sign up for the Needle 'n Thread daily newsletter! Check them out and sign up today!