Last week, I posted the I & J monograms for this particular alphabet.
They weren't the greatest hits in the world – the I is ok (it was the original), but the J (my re-draw) was another question. Someday, I'll go back and try to re-imagine the J!
In the meantime, though, forward with the alphabet! Today, the K and the L.
Usually, the K in any monogram alphabet is one of my least favorite letters. For some reason, they always look awkward to me.
But this one, I like. I like the fact that the two elements on the right side of the letter join all the way in at the flower. Sometimes, the join floats out in space. But here, there's a nice connection.
And the L is a fairly typical L for this type of alphabet – a flowing, scripty L. I think it's pretty! And I'm fairly certain Laverne would approve…
Printable Monogram Patterns
Here are the printable pages for the K and L. If you choose "no scaling" (or a similar setting) on your printer, the letters should print at 2″, 3″, and 4″ high. You can enlarge and reduce them to suit your needs!
Daisy & Rings Monogram for Hand Embroidery: K
Daisy & Rings Monogram for Hand Embroidery: L
Favorite Monograms – PDF Collection
You'll find this complete alphabet – along with 15 other decorative alphabets – all in one place in Favorite Monograms, a downloadable PDF collection of 16 monogram alphabets perfect for hand embroidery and other crafts.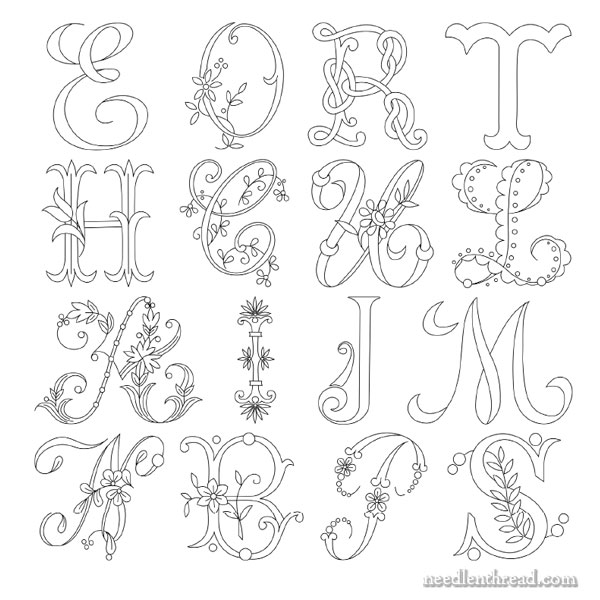 In the photo above, you can see samples of each alphabet available in Favorite Monograms.
Each letter in each alphabet in Favorite Monograms has been carefully traced into a clean line drawing that can be easily enlarged or reduced on a home printer or a photocopier.
The 16-alphabet collection is delivered as via a download link to your inbox shortly after purchase, so that you can begin creating right away! Priced at less than $1.00 per complete alphabet, monogram lovers can't go wrong with this collection!
Favorite Monograms is available in my shop, here.