Besides being the last day of the first week of September (already? where does the time go?!), today's the day we find out who wins a brand-spanking-new copy of Cheryl Fall's Simply Samplers, which I reviewed a couple weeks ago.
A short recap of the book: Simply Samplers is a nice beginner's embroidery book for both cross stitch and surface embroidery. It covers all the basics and makes a great starting point for folks, young or old or anywhere in between, interested in getting into stitchery for the first time.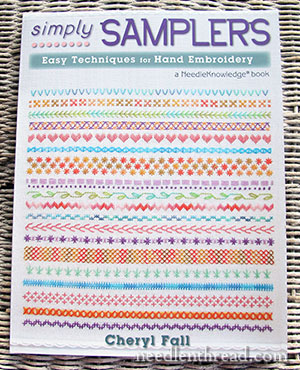 The question I asked in last week's give-away was What's your favorite embroidery project that you've ever worked? I love asking questions like that! They always yield responses that are fun to read!
Many of you said you couldn't pick just one. And many of you had one particular project immediately jump to mind.
I think I belong halfway in the former category – it's hard to pick just one! – and halfway in the latter category – one project immediately sprang to mind.
Right now, I think my favorite embroidery project I've ever worked on is this one, which I wrote about earlier this week. But I feel like I'm cheating, because although it was one project, it was made up of many smaller ones. I like it because of the variety in it, because there were no real constraints while working on it, because I was using wonderful threads on wonderful fabric and lots of color.
But if I start to think about the question too hard, at least 10 other projects that would rank as favorites come to mind! So it was a tough question – but I'm not sorry I put it to you. Thanks for your fun responses!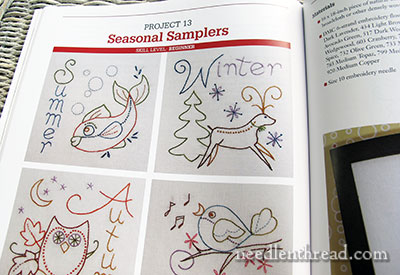 Simply Samplers Winner
The winner for the give-away, drawn randomly as usual, is Marly K in Ontario who answered the question:
I've only completed a few projects because I'm new to embroidery. Everything I've learned, I've learned from you, Mary! My favorite things to do so far are towels because they are pretty simple and they're usable when they're finished. I've given a few as gifts. My favorite, or at the least the one I think came out best, was a group of pickles, some filled in with long and short stitch and French knots and some outlined. I did them on a linen kitchen towel that has green stripes on it. I might even do another one, it went over so well with the recipient and everyone comments on it! Thanks for everything you've taught me, Mary! I don't know what I'd do with my down time, without you!
Awwww, shucks, Marly, thanks for your nice words. I always love hearing that Needle 'n Thread actually works – that it helps people who want to learn embroidery, learn embroidery. Very motivating for me!
Just drop me a line with your shipping information and the book will be on its way to you as soon as possible.
Where to Find Simply Samplers
If you didn't win the give-away but you're keen to get your hands on your own copy of Simply Samplers, you can find the book through the following book affiliates:
In the US, you can find Simply Sampler through Amazon, available now.
And, worldwide, Simply Samplers is available through Book Depository with free shipping to most countries.