Whenever I come across monograms for an I or the J (or is the J or the I?) in old publications, I mourn the absence of one or the other, or at least of one distinct from the other.
In old monogram alphabets, it is very common to see only the I or the J. The reason? It's really because they can be substituted for each other, in most of the scripted monogram alphabets. Whether you use the offered letter as an I or as a J is up to you – it can work for either.
You normally can't get away with substituting an I for a J or a J for an I in a block print alphabet, but if you look at the ambiguous I-or-J form above, you can see how it works for either in this style of lettering.
The original publication featuring this alphabet only offered the ambiguous I, so I doodled a bit to come up with a letter somewhat distinct from the offered one, to use as a J:
But the more I look at the letter above, the more I realize that it is ambiguous as well – you could use my J for the I, the I above for the J, the I for the J or the I, or just the J for either the I or the J!
Are we confused yet?!
In any case, if you want two distinct letters for I and J, here they are. You decide which you want for which!
Printable Monogram Patterns
Here are the printable pages for the I and J. If you choose "no scaling" (or a similar setting) on your printer, the letters should print at 2″, 3″, and 4″ high. You can enlarge and reduce them to suit your needs!
Daisy & Rings Monogram for Hand Embroidery: I
Daisy & Rings Monogram for Hand Embroidery: J
Favorite Monograms – PDF Collection
You'll find this complete alphabet – along with 15 other decorative alphabets – all in one place in Favorite Monograms, a downloadable PDF collection of 16 monogram alphabets perfect for hand embroidery and other crafts.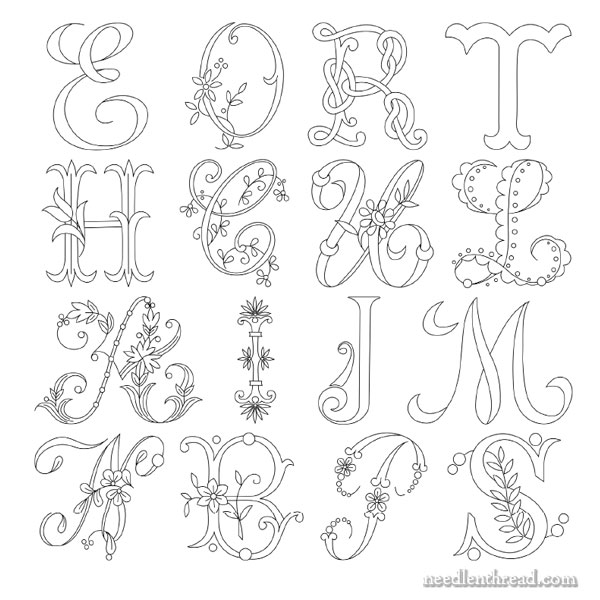 In the photo above, you can see samples of each alphabet available in Favorite Monograms.
Each letter in each alphabet in Favorite Monograms has been carefully traced into a clean line drawing that can be easily enlarged or reduced on a home printer or a photocopier.
The 16-alphabet collection is delivered as via a download link to your inbox shortly after purchase, so that you can begin creating right away! Priced at less than $1.00 per complete alphabet, monogram lovers can't go wrong with this collection!
Favorite Monograms is available in my shop, here.