If you haven't guessed it yet, I'm a sucker for monograms.
I assert, here and now, for the world to know, that I love monograms!
But the other day, I had an interesting conversation about them with a pal. The conversation made me re-evaluate my relationship with monograms – it hasn't decreased my love of them, mind you, but it set me thinking…
My friend is not a monogram enthusiast.
I just don't get it, she said. Why would you want everything in your house encrusted with your initials? Initials on the walls, on upholstery, on bed sheets, on towels. Initials on your cell phone case, your purse, your clothes! Initials on your shoes, your slippers, your coat. Initials on your notebooks, your pencils and pens, your jewelry. No thank you! she concluded. I just don't like monograms.
Ok, I admitted. If everywhere I looked – in my house, in my closet, in my car, on my person – were "encrusted" with my initials, I'd probably dislike monograms, too!
Well, that's what monogram enthusiasts do, she insisted.
Not so! Not so! cried I! I adore monograms, but where do you actually see them in my house, in my wardrobe, on my person?
Snort-chuckle, she responded (because that's the way she laughs…) Then you're not really a monogram enthusiast. You don't really love monograms – you just like the artistry involved in monograms. But you don't really love monograms. People who love monograms, use monograms.
Well, patooey on you for your logic, thought I.
But I said: You're right. I hate monograms. Let's eat.
There's no point in arguing with someone who doesn't love monograms, about loving monograms.
In a sense, she's right: I love the artistry involved, whether it's the embroidered monogram, the painted monogram, the engraved monogram, the paper-quilled monogram. I love letters in general.
I melt when I see beautifully embroidered monograms on linens. Melt, I tell you.
And I love the idea behind monograms – the love and care that goes into personalizing important or best-treasured things. Or even just the utilitarian marking of things, done in an attractive way.
But, admittedly, I only have a few monogrammed items – a little needle case, this gorgeous piece of linen, a linen towel with someone else's initials on it.
I don't have monograms screaming off the walls in my house, jumping off the sofa into people's faces, or bellowing from my closet.
That doesn't mean I don't love monograms. You don't have to have monograms everywhere, to be a monogram enthusiast. You don't even have to use monograms, to love monograms. And you don't have to love every instance of monogramming.
If you appreciate monograms for what they are, when they're worth appreciating, I think you can safely say you at least like monograms.
It doesn't have to be an either-or proposition.
That's my position, and I'm sticking by it.
And now I'm off – today, I'm going to monogram the floor of the kitchen, the hood of my car, every ceiling fan in the house, and the outside walls on the chicken coop.
Heck, I might even monogram the chickens.
Snort-chuckle.
Printable Monogram Patterns
Here are the printable pages for the M and N. If you choose "no scaling" (or a similar setting) on your printer, the letters should print at 2″, 3″, and 4″ high. You can enlarge and reduce them to suit your needs!
Daisy & Rings Monogram for Hand Embroidery: M
Daisy & Rings Monogram for Hand Embroidery: N
Favorite Monograms – PDF Collection
You'll find this complete alphabet – along with 15 other decorative alphabets – all in one place in Favorite Monograms, a downloadable PDF collection of 16 monogram alphabets perfect for hand embroidery and other crafts.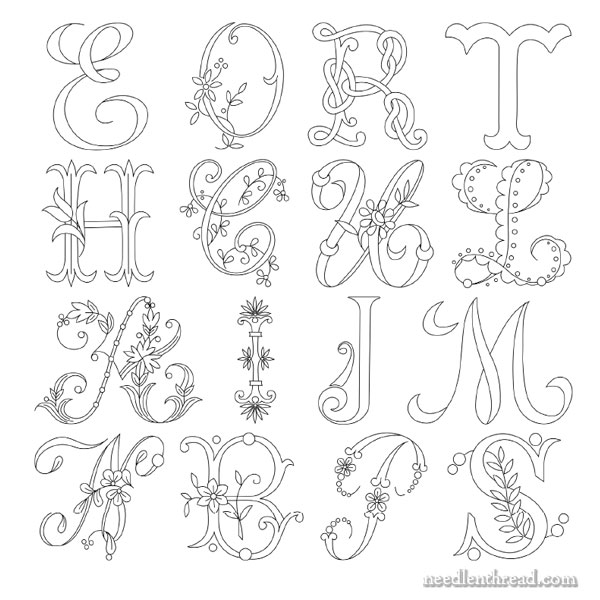 In the photo above, you can see samples of each alphabet available in Favorite Monograms.
Each letter in each alphabet in Favorite Monograms has been carefully traced into a clean line drawing that can be easily enlarged or reduced on a home printer or a photocopier.
The 16-alphabet collection is delivered as via a download link to your inbox shortly after purchase, so that you can begin creating right away! Priced at less than $1.00 per complete alphabet, monogram lovers can't go wrong with this collection!
Favorite Monograms is available in my shop, here.