Do you ever get really stuck into your embroidery, completely engrossed in it, with the absolute certitude that you will not only reach your daily goal but surpass it, everything just ticking along exactly as you wanted it….when suddenly….
…suddenly…
…out of nowhere… the phone rings, the unexpected happens, some sort of interruption comes? They're not necessarily bad interruptions – but they are interruptions.
This happens to me a lot. And it's always when I'm the most settled, the most determined, the most engrossed, and the most certain that I'm actually getting somewhere.
In particular, it happened the other day when I was working on the hummingbird feathers on the Secret Garden project. And I was so sad to leave them! I was having such fun!
Here are some of the feathers, stitched. The ones you see here are not completely finished yet, but they give a good idea of where I'm going with them.
This group of feathers on the top wing are worked in fishbone stitch, and it is really a perfect stitch for these feathers!
Starting with a very dark blue at the tip (DMC 820), I'm working the fishbone stitch down the feathers in a progression of slightly lighter blues, beginning with 820, 995 and 996, and then working through 3843, 3844, 3845, and 3846 all the way to the "cap" of the wing.
The top feathers being slightly darker, I didn't make it all the way to the lighter blues on those.
And as the feathers lighten up even more (in the lower feathers, which you can see in the photo above), I alternated in some of the light-light blue – a white-ish blue – DMC 747.
Now, looking at the photo directly above, which is just a repeat of the one before it, there is one section that needs a little touch up. Can you see it or guess what it is?
It's right here. The dark blue does not extend as far as it needs to. The dark blue in this second feather needs to line up better with the feather right below, but it falls short slightly.
To fix that, I don't have to take the whole feather out, and that's another good thing about fishbone stitch, especially when it's not packed too tightly together – you can go back and sneak in a stitch or two without disrupting anything.
Let me demonstrate …
This is the same feather – the second feather down on the wing, after I first stitched it.
I wanted the tip to look a bit turned. But this layout I tried with the blues didn't work. The feather didn't look turned. It just looked weird.
After embroidering a few more feathers and convincing myself that it really did look weird, I went back to that second feather and fixed it.
I just sneaked in a couple more dark blue stitches (it needs two more still, I think), but you can't tell they were sneaked in, can you?
So, whenever you're working with a particularly forgiving stitch (like fishbone stitch, or long & short stitch, or even stem stitch or split stitch fillings), if you need to make tiny, subtle corrections, there's nothing wrong with going back and sneaking in a stitch or two.
Or three!
Just make sure that the stitches are worked in such a way that they fit and flow with the surrounding stitches, rather than sitting on top of them or moving in a different direction from them.
No one will ever notice. And you'll be the only one who knows!
Here are the feathers from the side, to give you a better idea of the progression of blues.
And here's the bird in context.
A tip on using multiple colors or shades in one small area: don't end your threads – park your embroidery threads!
Keep a needle on each shade of thread you're using (so you don't have to keep re-threading your needle), and pull the threads off to the side, anchoring them in your fabric. You want to make sure they're pulled out of the way on the back of the work, too, so you don't get any messy tangles there.
And another tip: if you're working with shades that are barely different from each other and difficult to distinguish at a glance, park your threads in some kind of order, so you always know which shade is which.
You can see the needles parked off to the left on my frame in the photo above – the threads there are in order, from light to dark, down the side. That way, I always know which shade is which in the middle ranges that are close in value.
The Resident Hummingbird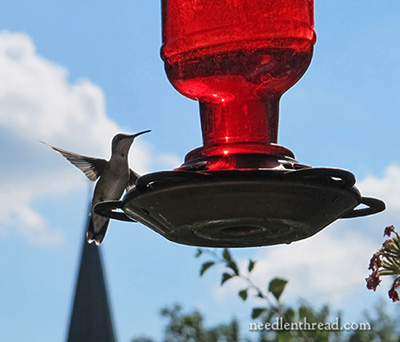 The other day, while I was out on my porch taking photos of a book, a little shadow kept flitting across the page.
I glanced up and this tiny guy – our resident hummingbird – was buzzing about, having lunch.
The triangle behind the bird's tail is the steeple of a church a couple blocks away.
Cute, isn't he? Not super colorful, but cute!
Back to the feathers – they're coming along! I only have a small window this morning where I might finish them. Fingers crossed!
Questions, comments, suggestion are always welcome! Have your say below!
If you'd like to follow along with the Secret Garden Hummingbirds project, you can find all the articles relating to this project arranged in chronological order in the Secret Garden Project Index.