Continuing on with this daisy & rings monogram alphabet for hand embroidery, here are the S and the T.
It's perfectly understandable if you look at these two letters and say, Huh?
The S is an old scripted S, as is the T – although the T is somewhat reminiscent of an uncial-type T. Both of these styles are often seen in old alphabets for embroidery.
At first, for modern audiences, they can be somewhat difficult to get used to.
Just preparing you!
Here's the S:
I know! You're probably thinking it looks like an L that stopped short on the finish. It does. I agree. But assure you, it is an S!
And here is the T:
The T is slightly more common, I think, though still not what we'd normally associate with a T today, whether printed or scripted.
Personally, I like this style. I prefer it to a printed T or to the typical Palmer or Zaner-Bloser penmanship T. But that's just me.
In fact, I embroidered a T on this needlebook, using a similar monogram (only with roses, not daisies, and no rings.) It's a classic T for a monogram.
Monogram Printables
If you're collecting these letters, you'll find the links to the PDFs below. The letters print at 2, 3, and 4 inches high, if you choose "no scaling" in your print preferences. You can enlarge and reduce them, though, as you wish.
Daisy & Rings Monogram for Hand Embroidery – S
Daisy & Rings Monogram for Hand Embroidery – T
Favorite Monograms – PDF Collection
You'll find this complete alphabet – along with 15 other decorative alphabets – all in one place in Favorite Monograms, a downloadable PDF collection of 16 monogram alphabets perfect for hand embroidery and other crafts.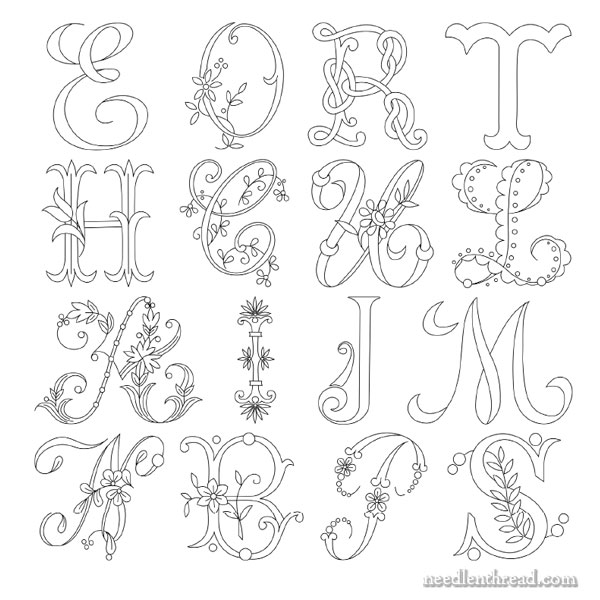 In the photo above, you can see samples of each alphabet available in Favorite Monograms.
Each letter in each alphabet in Favorite Monograms has been carefully traced into a clean line drawing that can be easily enlarged or reduced on a home printer or a photocopier.
The 16-alphabet collection is delivered as via a download link to your inbox shortly after purchase, so that you can begin creating right away! Priced at less than $1.00 per complete alphabet, monogram lovers can't go wrong with this collection!
Favorite Monograms is available in my shop, here.