Happy Friday!
Today, a book review for a unique instructional book for an equally unique style of embroidery, called "Estense embroidery" – a style hailing from northern Italy, modern in its concept but with roots in the 14th through 16th centuries.
If you've been hanging around on Needle 'n Thread for a while, you might remember that I reviewed Elisabetta Holzer's first book, Ricamo Estense, back in 2010.
After several years of hard work, Elizabetta has produced an extensive manual that catalogs all the stitches and techniques she incorporates into this enchanting style of embroidery.
Estense embroidery is essentially an embroidery style conceived by Elizabetta that reflects the artistry found in the painted pottery native to Ferrara, Italy, and the surrounding region. The history of this colorful pottery reaches back as far as the early Renaissance.
Inspired by the designs and colors of the pottery, but also by the history, architecture, and art of the region, Elizabetta developed a style of embroidery that incorporates both common and uncommon stitches into a coherent whole.
Not only does Estense embroidery reflect the influences mentioned above, but it also incorporates and enlivens old, almost-forgotten techniques found in Italian needlework (particularly in needle laces and the like), presenting them in new, colorful, and modern ways.
The result is an embroidery style that is rather uncommon, somewhat unusual, and immensely appealing.
You can see in the example above that the design is a combination of surface embroidery, counted work, needle lace, and even drawn thread work.
The edges of the reticule are embellished with a fine, colorful needlelace. The various lines and bands are worked in combinations of surface embroidery stitches and counted stitches. The central floral band flows across the fabric as only surface stitches can, but the geometric fillings of the flowers typify different types of counted work. Though not completely visible, the neck band of the little bag is drawn together with a hand-made cord that runs through a colorful band of drawn thread work.
So, Estense embroidery embodies quite a range of embroidery types: surface embroidery, counted work, needle lace, and drawn thread work…
…and it's all done in color! The colors used in Estense embroidery mirror the colors found in the pottery of the region. Primarily, Elizabetta uses Anchor threads in the work, but she does offer DMC conversions as well.
Now, the book itself. Before we go further, I should let you know that it is entirely in Italian, and unlike the earlier Ricamo Estense, the Complete Manual (which is what I'm reviewing now) will not be available in an English translation.
So, this is a disadvantage, in a sense, if you don't read Italian. However, the book is so full of clear diagrams and photo instruction that you can learn the techniques and stitches easily without the text.
The only place I find the language barrier problematic is in the projects part of the book, where the instruction is primarily text. Still, a stack of post-it notes and a little time using Google translate, and I was able to piece together the meaning of passages that I wanted to understand.
The first part of the book is the instructional manual. Here, you get all the stitch instructions, with photos of the stitch and clear diagrams to show you how to work it.
You'll find instructions for thirty-six embroidery stitches in the book, progressing from simple to more complex.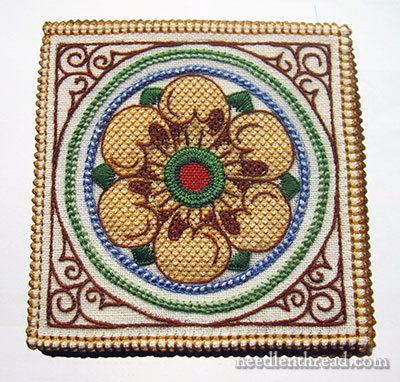 Throughout the instructional part of the book, you'll find plenty of colorful photos of stitched pieces that show off how all the stitches work together to impart the look specific to Estense embroidery.
Here's an example of a stitched band that combines drawn thread work into one lovely decorative band.
Speaking of drawn thread work, there are clear photos of how to work a variety of beautiful decorative corners in drawn thread. There are eight drawn thread corner treatments detailed in the book.
Here's another place where I employed a post-it note and a translation, just to make sure that I could understand the thread removal information. Often, in drawn thread work, you need to draw a specific number of threads in a specific sequence in order for the corners to work out right. I had no problem with using a computer-generated translation here.
The corners are perfect places to display stitchery and techniques typical of Italian needle lace.
Besides the drawn thread treatments, the manual goes into detail on edge treatments, and what a treat! There are some gorgeous edge treatments in here!
And that brings me to this point: the instruction in the manual is not limited to application in Estense embroidery only.
You know that book cover you want to make? Or that ornament? Or that table runner or tea cloth you embroidered, but you're not sure how to finish the edge? There are some really nice ideas in here for edge treatments and the like that can be used in all different types of hand embroidery projects.
Take, for example, this lovely double scalloped needle lace edge. So pretty!
The manual also concentrates on stitching other decorative bands and decorative fillings.
The fillings in Estense embroidery are quite varied. Blackwork techniques, soft shading, needlepoint techniques, Wessex stitchery, Colbert embroidery – all of these techniques and styles seem to meld together and find expression in Estense embroidery.
And again, they're all clearly mapped out with diagrams and photos.
In the last section of the book, you'll find the projects. There are seven projects, and each is quite beautiful!
Each project is accompanied by a photo of the finished embroidery, a pattern, a materials list, and instructional text. The instructional text explains the techniques used and the finishing method. The techniques are all those that are explained earlier in the manual. This is where a little translating will come in handy.
Some of the projects are smaller and simpler, like this biscornu…
…while some are slightly more complex! For example, this is a gorgeous bomboniere (or wedding favor bag). It combines all the techniques in the book – fillings, bands, drawn thread work, surface stitches, needle lace edges, and hand-made decorative cords.
Where to Find Ricamo Estense
If Italian isn't in your repertoire, you'll conveniently find Il Manuale Completo del Ricamo Estense available through The Book Depository, where they offer free world-wide delivery.
It's also available through Lacis (it's about $20 more…). Just search their catalog for "Estense".
You can also find Ricamo Estense through the publisher's website, Nuova S1, where you can see a flip-through preview of part of the book.
Just a little tip here: if the book appeals to you, now's the time to get it! Elizabeth's last book on Estense embroidery is out of print and hard to find. I get inquiries about it all the time from folks who can't track down any copies of it, but are desperate to find it. So if this style of embroidery appeals to you – if you're keen to learn these gorgeous decorative bands, fillings, edge treatments, and drawn thread frames and corners, don't wait on this one. I don't know how long it will be available!