The end of October is upon us. You know what that means, don't you?
It means that the end of 2014 is looming! Time's fun when you're having flies…
I was going to put today's Big Question off until the end of November, but that doesn't give me a lot of time to start planning for next year.
During these last two months of the year, I'll be working on future plans for Needle 'n Thread. To do that and do it well, I need your help!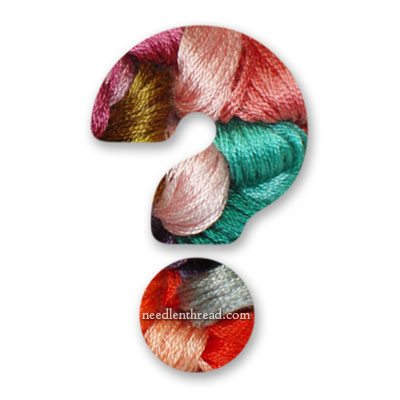 What do YOU want from Needle 'n Thread?
It's easy to say what my plans are for next year: to improve upon this year. And as always, my plan is to make Needle 'n Thread the best it can be.
But, just like any endeavor that continues from year to year, Needle 'n Thread needs some fine-tuning and some direction.
And you can help me with that!
How? By taking a survey.
It's a 20-question survey, completely anonymous, with no personal information (email addresses or anything!) collected. I just need your answers to 20 questions about needlework and Needle 'n Thread. The questions will help me to know you better, and to know what you want. The survey will take about 10 minutes (or less) of your time.
And by helping me out, you'll also be helping yourself. This is your opportunity to influence the content you find on Needle 'n Thread, to tell me what you like and what you don't like, what you'd like to see more of (or less of!), and how you use Needle 'n Thread in general.
Please Take the Needle 'n Thread Survey
If you can spare me just a little bit of your time to take the survey either today or perhaps this weekend, I would greatly appreciate your feedback!
Click here to take the survey to help decide the future direction of Needle 'n Thread.
Thanks heaps!