Ahhhh, silk! It's such a luxurious fiber, and so perfect for hand embroidery that it's been used for centuries and centuries to embellish fabric, and ever considered the Queen of Embroidery Threads.
There are many different types of silk threads used in hand embroidery and other needlework. After all, silk embroidery threads differ in construction, in weight, in twists, even in types of fibers in their make-up.
Today, I want to chat with you about a silk thread that is a little mysterious and obscure (it's certainly not the most commonly used silk thread in the world, that's for sure!).
It's also somewhat…well… odd.
The thread is silk chenille. Let's look at it.
Silk chenille, as you can see, is a fuzzy embroidery thread, resembling a caterpillar, which is what "chenille" means in French.
Unlike other chenille threads made from cotton or acrylic and used for knitting and crochet, Au Ver a Soie's silk chenille, made specifically for hand embroidery, is soft and velvety – like the smoothest of fine velvets – with no stiffness, no bristly-ness.
And while you might be tempted to liken it to the "magic worm" toys that we enjoyed as children – you know, the fuzzy worms with the googly eyes and the long snout, that you pull around on an invisible string – it's not quite the same thing!
When you feel real silk chenille thread, you'll wish it came in huge billows and pillows, so that you could burrow into it and live in it forever!
If you take a piece of silk chenille and strip the fuzzies off the end, you'll find a three-ply twisted silk. The fuzzy part of the thread are similar to little tufts held on the thread inside the twists.
Silk chenille has its own type of needle named after it.
The chenille needle pictured above is a #18, which, if you've been using a smaller #9 or #10 crewel needle to embroider with one strand of floss, will feel decidedly like a railroad spike in your hands. It's a big needle with a long eye and a sharp tip. In all respects except the sharp tip, it's just like a tapestry needle.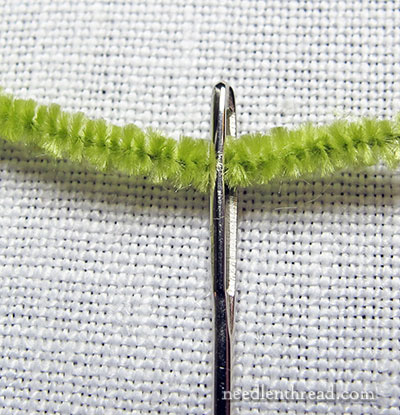 The large eye of the chenille needle is obviously necessary, if you want to thread the whole fuzzy girth of chenille into the needle.
The sharp tip and thick shaft are necessary for making the initial hole in the fabric and then opening it up to allow the thread to pass through.
Historic Use of Chenille Embroidery Thread
Silk chenille has been around for a long time! It's been used in embroidery since at least the 17th century.
On the Heilbrunn Timeline of Art History on the Metropolitan Museum of Art's website, you'll find this 17th century embroidered box.
The box features chenille embroidery, although there are no close-up images of it on the website. Silk chenille was favored for working grass and moss on the ground, and adding clumps of foliage to trees on these exquisite works of needle art.
More recently, during the 18th century, silk chenille was favored for embellishing elaborate clothing and trim.
Over on Trouvais, a wonderful blog dedicated to French interiors, rough luxe, and flea market finds (especially of the 18th century), you can see a fantastic example of 18th century silk chenille embroidery on a silk waistcoat.
Also on Trouvais, you'll find photos of another piece of gorgeous silk covered with swags of roses embroidered with silk chenille.
And even yet more recently – during the Victorian era – silk chenille was used on lavish crazy quilts, to embellish clothing and accessories (like handbags), and to embellish other items, like embroidered boxes, too.
Over on Plays with Needles, Susan Elliott's fun and fabulous blog, you'll find some up close, gorgeous photos of silk chenille elaborately embroidered all over velvet fabric adorning the outside of a decorative box that's most certainly Victorian.
Today, silk chenille is used in hand embroidery still. It has enjoyed a recent revival of interest, thanks to the Cabinet of Curiosities classes on Thistle Threads, where 17th century embroidered caskets are explored in-depth in preparation for creating your own, and thanks to other classes and projects exploring 17th century embroidery.
Silk Chenille Today
One of my favorite contemporary uses of silk chenille came to me via a reader who only recently has begun exploring embroidery (and specifically crazy quilting) after a hiatus of 50 years since childhood.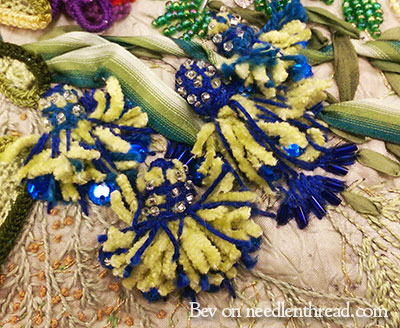 Bev used silk chenille to create luxurious bundles of beaded tassels on her first crazy quilt square, which I'll share with you in detail further down the road. It's a fantastic, exuberant piece encrusted with all kinds of embroidery techniques! The tassels are especially rich, thanks to the use of the chenille thread.
Today, silk chenille can be used in surface embroidery just as it was centuries ago, but it can also be updated and modernized, just like any historical thread. Once you understand the best ways to work with chenille, a world of stitching possibilities for this fuzzy thread will open up!
Working with Silk Chenille
In Part 2 coming up early next week, we'll explore some tips on how to embroider with silk chenille thread.
Unlike floss, you can't just launch into any embroidery on any fabric with any stitch, using silk chenille. It's a somewhat persnickety thread, in a way, but we'll wrestle it to the ground and explore how to stitch with it effectively.
We'll also look at where you can find real silk chenille thread for your own embroidery projects.
Over to You!
Have you used silk chenille in your embroidery projects? What's your favorite application of the thread? Do you have any tips to share?
Or is this a first introduction to silk chenille? If so, what would you like to know about it? What are your first impressions – like it? or no?