Lorna Bateman is a well-known embroidery designer and teacher from the UK.
I've been familiar with Lorna's work for years – her embroidery projects have often been featured in Inspirations magazine – and I've always admired her classic, sometimes whimsical, always beautiful, embroidery style.
So, today, I'm delighted to review a Lorna Bateman embroidery kit and tell you what they're like – and to give one away!
To start with, I love the packaging Lorna uses on her embroidery kits!
They're housed in sturdy, pretty yellow gift bags, with a clear color photo of the project on the outside of the bag. The gift bag is a brilliant idea – it makes it easy to give a kit as a gift, and it makes for a great project tote bag, so you can keep the project organized while you're working on it.
Inside the bag, the kit is further packaged in clear cellophane, and all the little elements – beads, buttons, needles, and so forth – are packaged in separate ziplock bags, for tidy organization.
This particular kit is Lorna's Vintage Lace and Pearls pincushion kit.
The kit is kind of a combination of crazy quilting and bead and ribbon embroidery – it has a very Victorian, romantic look to it.
Everything you need to complete the project is included in the kit, except scissors: beads, buttons, silk floss, snippets of lace, needles, and clear instructions. This particular design has no pattern, but the instructions demonstrate how to add the lace and work the bead and ribbon embroidery.
What I like about this type of project is that it's a good weekend or week-long project (depending on how much time you have on the weekend!). At the end, you have a beautiful, functional accessory for your embroidery or sewing table.
And most of Lorna's designs are that way – they're objects like pincushions, needle books, scissor sleeves, and the like, that can be worked in a relatively short amount of time, and that produce something that's beautiful and useful.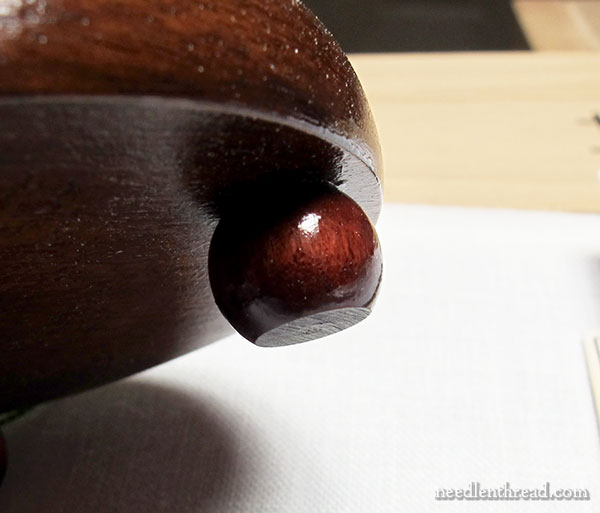 And I especially love the pincushion bases that come with her kits.
I have A Thing for bun feet on wooden furnishings, and these little bun feet on the pincushion base are just perfect.
One of my favorite kits right now in Lorna's shop is this adorable spring sampler kit.
Perfect for sampling several embroidery techniques, the design is cheerful and happy.
The sampler incorporates surface embroidery, ribbon embroidery, beadwork, stumpwork, and raised & textured stitches – and it features all kinds of springy life, from bugs to critters to flowers and foliage.
Samplers like this are a fun way to embroider! You never get bored with them, they definitely have a "wow" factor in the finish, and they give you a taste of many techniques that you can explore further if you like.
By the end of January, I always get the itch to embroider something light, fun, and springy, and this piece fills the bill. For those who are prone to the winter blues, I think it would be an ideal addition to a Christmas wish list, don't you?
Pros & Cons
Lorna's kits are thorough – they contain everything you need in abundant quantity to finish the project. The instructions are clear and easy to follow. She uses quality materials, threads, ribbons and embellishments. And the kits are packaged beautifully, with careful attention to detail.
The only con – for stitchers outside the UK, there's the currency conversion and shipping. Still, after converting the currency, I find Lorna's kits competitively priced, considering the quality and quantity of the materials in her kits.
Give-Away!
Today, courtesy of Lorna Bateman Embroidery, I'm giving away one of Lorna's kits – specifically, the Vintage Lace and Pearls pincushion kit shown above. It includes everything you need to make the pincushion – including the pincushion base.
To join in on the give-away, please follow these guidelines:
This give-away is now closed. The winner was announced on December 3. Thanks for participating!
1. Leave a comment below. Comments sent in via email or left on other articles on Needle 'n Thread are not eligible. If you're not sure where to go to leave the comment, just follow this link to the comment form.
2. In your comment, answer the following:
What's your favorite type of hand embroidery?
3. Leave your comment before 5:00 am on Wednesday, December 3. I'll announce the winner (drawn randomly, as always) on Wednesday. The winner will need to contact me with mailing information.
So, that's it! Join in – and who knows? You might be able to strike one thing off your Christmas shopping list!
The give-away is open to anyone, anywhere. Needle 'n Thread is not responsible for any customs fees, or for any delays due to any regulations your country may have concerning importing wood products, or for lost or damaged packages.