Last week, we enjoyed an initial foray into exquisite embroidery on piña cloth, a cloth made from pineapple plant fibers.
Many questions arose about the cloth itself, about the embroidery on the cloth, and about where to find piña cloth. The most frequently asked question, though, was what does the fabric feel like?
The latter is a very difficult question to answer via the internet! Today, we'll look at old examples of piña cloth and a new sample, and I'll do my best to answer your questions.
I took photos here on a white background, so you can get a sense of the color of these old pieces of piña cloth embroidery.
Remember of the videos about piña cloth from last week? Some images show embroiderers working on white-white piña cloth, and you can see many examples of the Barong Tagalog online where the cloth is white-white.
The fabric sample that I have is soft gold-ish color, and the old pieces of piña cloth, embroidered, that I have are also very soft gold in color as well, especially when placed on a white background.
On a blue or a dark background like the one in the photo above, they tend to look more of a creamy off-white. (Great toes, eh?)
So, the soft goldish-white color seems to be the natural color of the fabric.
On the old pieces, the embroidery is done with cotton for the regular embroidery, and it looks like a very fine silk thread for the drawn thread work. The color of the embroidery on the old pieces is a creamy off-white, maybe an ecru.
Here, on the white background, you get a sense of the gold color of the fabric, but you're also seeing, I believe, some discoloration or darkening from age.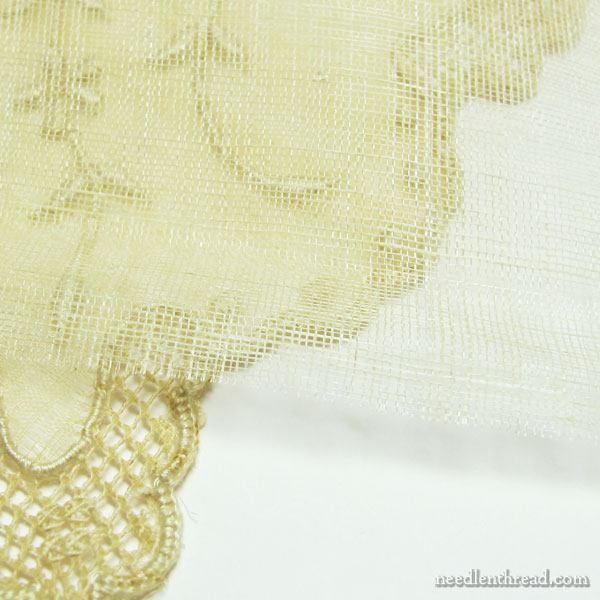 Enter, the new piña cloth, which is the gauzy looking overlay of fabric in the photo above.
It's still a pale gold color, like a golden creamy white when viewed in one single layer – it's definitely not white-white, nor is it as dark as the old cloth.
When the new fabric is folded, the layering makes it darker, but again, not as dark as the old fabric.
This is a close-up on the weave of the new fabric.
This particular piece (thank you, Anna-Maria, for ending it!) is made from all-pineapple fiber. The warp and weft threads are the same fiber, and I can take one tiny strand of that fiber and feel it and look at it under a magnifier, and see that it isn't a combination of fibers.
Some piña fabric options I've seen on the market today combine pineapple fibers and silk, but traditionally, the cloth was not made with silk.
What does piña fabric feel like?
Well, this particular new piece has a nice, smooth hand, or surface feel. It is not slubby, bumpy, or anything like that. It feels good when you pass your hand over the surface.
But it does have a wiry stiffness to it, which will lesson over time (if I judge by the old pieces I have) and which definitely lessens with washing.
The fabric is quite delicate when it is wet, so special care has to be taken in the way it is washed. It's also incredibly limp and smooth and silky when it's wet! I'll talk more about that later (if I can bring myself to tell you of my idiocy when washing one of the old pieces…)
Finally, piña fabric is as light as air. There's virtually no weight to the 1/2-yard piece, and the embroidered pieces are extremely light as well. The only weight to them seems to come from the embroidery. You can feel the weight of the threads on the edges, but overall, the pieces are gossamer-light.
Here you can see the folded piece (in eight layers) of new piña cloth on the left overlapping two layers of the old embroidered cloth on the right.
Hunting for Piña Cloth
I have not found a source for real piña cloth in the US yet, but I've gleaned a bit of good advice from reliable sources, if you do plan to pursue finding and purchasing a length of real piña cloth:
1. Buy from a distributor who can order it for you. Do not buy online, directly from the weaver or coop in the Philippines. The industry is apparently quite disorganized, and you can't be guaranteed of receiving the product.
2. If you have a friend in the Philippines who can hunt out piña cloth and purchase it for you, that works even better, as you can avoid several layers of middlemen.
3. Check the fiber content and the source of the fabric. If you're paying $10 / yard for it, you're not getting real piña cloth that is used for this type of embroidery. You're either getting a blend or a machine manufactured cloth that is woven differently, and most likely from India.
4. The cloth width is narrower than what we are used to when buying fabric off the bolt. It is likely that the widest piece you'll find is 26″ – 30″ wide.
5. Through a distributor, expect to pay at least $80 – $100 / yard (and sometimes more, depending on where you can get it) for real piña cloth.
I'm still working on cleaning the old pieces of piña embroidery. It's a painstaking, long-soaking process, and admittedly, I've made some mistakes along the way. Eventually, I'll tell you all about it…
Have a swell Friday!