The other day, I reviewed Trish Burr's new book Miniature Needle Painting Embroidery, which will be available in the US next month, and today, courtesy of Trish Burr, I'm giving away a copy of it! How exciting!
So, even if the book isn't available yet, it will be soon – and in the meantime, you might end up with your own advanced copy.
And speaking of which…there's a thread question that came up regarding the book, so let's chat about that, too.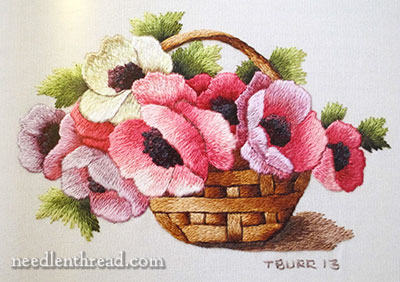 Over on Trish's blog, she mentioned my book review and the thread problem. It's this: for US stitchers, if you plan to use the Gütermann threads that Trish recommends in her book for the tiny details, then you'll notice a discrepancy when you look for them.
Apparently, Gütermann's color numbering system is different in the US from they way they number colors in other countries. You might, for example, be looking for a brown and discover instead that the color number leads you to a bright turquoise. That's kind of frustrating!
To help eliminate the dilemma, I volunteered to do some color matching for Trish so that we could come up with the US numbers that correspond to the same colors she recommends. I did that yesterday, and my explorations took me as far away as Kansas City.
Hey, any excuse to go to KC – it's my favorite city. (Here in Kansas, we're at least two hours from everywhere when it comes to anything I'm determined to find. As George Clooney would say, "Well, ain't this place a geographical oddity! Two weeks from everywhere!")
Anyway, the results of that adventure will be forthcoming, so stitchers in the US will have a list of color numbers soon.
Miniature Needle Painting Give-Away
In the meantime, the book!
If you'd like to add a copy of Miniature Needle Painting Embroidery to your needlework library, here's your chance to get one delivered to your front door, for freeeeeeee.
This give-away is now ended. Thanks for participating!
All you have to do is follow these very simple guidelines:
1. Leave a comment below, answering the question posed in the next step. Please make sure to leave your comment on this article on Needle 'n Thread. Comments received via email or left on any other article are not eligible. You can get to the comment form by following this link.
2. In your comment, please answer the following:
Of the pictures I posted in the book review the other day, which project really grabs you? Or, if none of them, what really entices you about needle painting, especially on a small scale?
3. Please leave your comment by 5:00 am CST (Kansas, USA), Friday, February 20th, and I will announce the winner that day. The winner will need to contact me with a mailing address.
Did You Win Last Week's Give-Away?
And, speaking of winners and contacting me, I haven't heard from last week's give-away winners. Were you one of them? Because if you were, you'll need to send me your mailing address soon, or I'll have to draw other names!
So Many New Books!
I know I've been doing a lot of book reviews and give-aways lately. There are so many new embroidery books out, or coming out soon! It's encouraging on the one hand – I think embroidery is growing and growing and growing in popularity – but on the other hand, I feel like I'm swamping you with book recommendations.
Still, if you have any particular books on your wish list that you haven't purchased yet, and you'd like to see reviewed at some point, you're always welcome to drop me a line. I might have it, or it might be on my wish list, too. If it's pertinent, and I can get it and review it for you, I will!