A couple weeks ago, I introduced you to my embroidery carrot.
You do have embroidery carrots, don't you? For me, my carrot is always a project I want to work on, but it's purely for my own pleasure, my own learning experience, just for relaxation and fun. I don't have to think about the project. Someone else has done all the thinking for me!
For example, this little miniature Cluny tapestry was an embroidery carrot for me. It was just a fun little counted petit point piece, worked on silk gauze. I used it as my "15 Minute" project and as a carrot. When I finished something I had to do, when I got a good day's work done, or whatever – I'd spend fifteen minutes or more relaxing and stitching on it.
A carrot is a reward. If I was good, I'd reward myself with stitching time on it. And eventually, it was finished!
Well, my carrot this year is Late Harvest, an embroidery kit by Hazel Blomkamp, which I reviewed a couple weeks ago.
Late Harvest is a rather large piece (especially if you compare it to that miniature Cluny tapestry!), and so it requires a good-sized embroidery frame.
My stand-by embroidery frames that I will always love are Evertite stretcher bar frames. You can read all about Evertite stretcher bar frames here – what they are, how they work, and what makes them special.
Late Harvest is really only "large" in one direction – it's wide – and to accommodate the width of the project, I needed to use a set of 22″ long stretcher bars. The other set, to make the short sides of the frame, are only 12″ long.
Evertite stretcher bars are made in many sizes, as far as length goes – from tiny (6″ stretcher bars) all the way up to Really Big – 40″ wide.
The smaller bars (up to 18″) are 3/4″ wide. The bars over 18″ and up to 26″ are 1″ wide on all sides. And although they are different sizes, they are still compatible. So you can easily join a 12″ long bar that's 3/4″ wide on all sides to a 22″ long bar that's 1″ wide on all sides.
You can see the two sizes of bars here – the thinner 3/4″ wide, 12″ long bar connected to the thicker 1″ wide, 22″ long bars.
The tightening mechanism – that little screw head you see in the corner joint there – is the signature of the Evertite stretcher bars. It's what makes them so great! And you can see that it is flush against the joining bar, which is how it should be.
So, even though the two bars are definitely not the same thickness, they still work together.
Incidentally, Evertite frames over 26″ long are 1.25″ wide all around, and they are not compatible with the smaller bars. The longer the bars get, the thicker they must be, so that they keep your fabric taut without warping.
When I use stretcher bars, I tack the fabric to the frame using this EZ Tack-It tool.
If you use stretcher bars of any kind, this tool kit is a great investment! It'll save your fingers and thumbs! You can find it at any needlework shop that carries stretcher bars, at craft stores like Hobby Lobby, and sometimes, at hardware stores. Look for it! It's definitely worth having on hand.
The magnetic end of the tacker holds the tack in place, and the shape of the handle makes it very easy to push the tacks into the wood bars. The kit also comes with a little tool for removing the tacks, and with a little container of tacks. I buy my extra tacks in bulk through office supply stores or hardware stores, though, instead of buying the extra EZ Tacks (which are considerably more expensive for the quantity).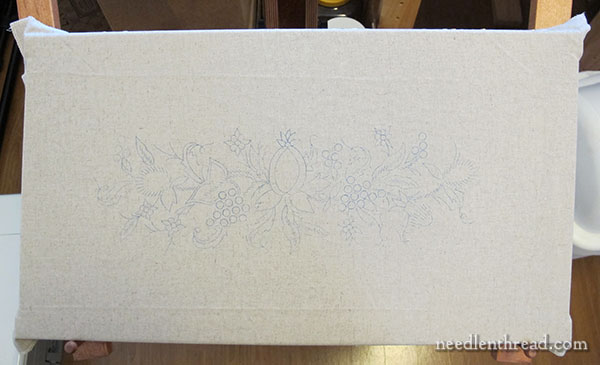 So here's my carrot, mounted on Evertite stretcher bar frames, sitting comfortably on my Just a Thought needlework stand, which holds it perfectly.
But…it's not quite ready for stitching just yet.
When I embroider a project like this, I really like the fabric to be drum-drum-drum taut. I like it to be almost hard, it's so taut.
With this particular project, even though it is stretched and mounted on the stretcher bars, and even though I've expanded the stretcher bars a little bit to tighten things up, it still feels a bit spongy to me. There could be two reasons for this: 1. it's backed with another layer of cotton; 2. the ground fabric is a linen-cotton blend, which tends to be a slightly spongier fabric than 100% linen.
But never fear! I have a solution for eliminating that sponginess and slightly looser feeling. And it works every time!
In fact, I often do this with 100% linen, too. I do it with most of my long-term embroidery projects that are on linen (or blends like this) and that are mounted on frames, whether they be Evertite frames, slate frames, or Millenium frames.
After the fabric is mounted, I spray the surface of the fabric with a good mist of water.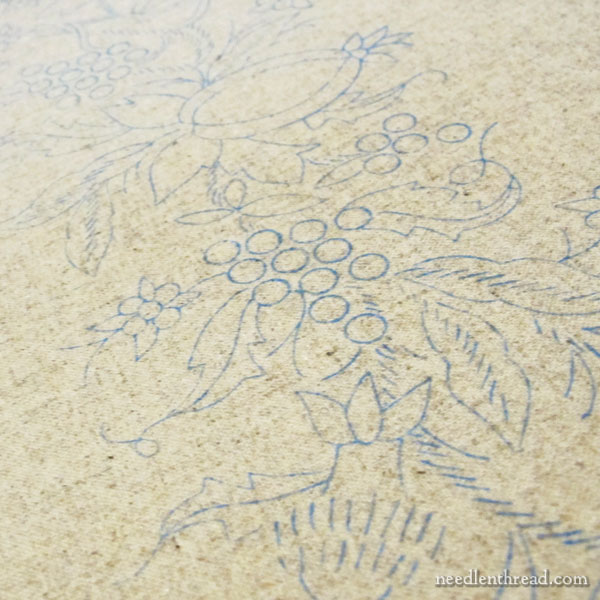 I don't spray it enough to get it soggy, but just enough to dampen it well.
And then I leave it.
As the fabric dries, it shrinks and tightens up a little extra bit that makes a big difference!
And it worked perfectly with this particular project, too.
My carrot is now ready to go. It's on its own stand, so I can drag a stool up and work on it when the mood strikes. I can use it to motivate myself, so that when I've been particularly good and deserve a carrot, I can take a short break at it.
And I might even work on it when I'm being bad and rebelling against all the other things I should be doing – but Shhhhhhhhh! That'll be our little secret, ok?