Valentine's Day is coming up. It's that time of year when people pay special attention to their True Loves.
Ah, me! *Sigh*
Don't worry, I'm most certainly not going mushy on you.
But I am going to get a bit gooey over some goldwork.
Goldwork! Now there's something to sigh over. Doesn't it just make you weak in the knees?
Ok, seriously, several years ago, I shared this embroidery pattern for a heart filled with flowers, and Barbara McNabb, a reader down in New Zealand, embroidered a lovely version of it. Her guild – a group of about 35 at the time – was doing a display with a theme of hearts, and the pattern was shared in their newsletter for inspiration.
I just love what she did with the embroidery!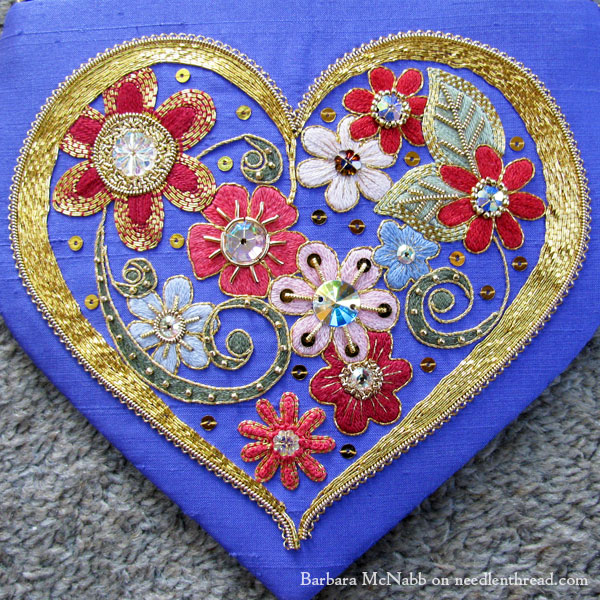 Barbara enlarged the original Heart o' Flowers embroidery design to about 4.5 x 5″ before stitching it.
The ground fabric is silk dupioni. The floss is DMC stranded cotton. And the embellishments include goldwork threads, spangles, beads, and an assortment of little crystals.
I especially like the combination of colors Barbara used on the piece, and the fact that the background is blue and not red or white or pink!
I think the blue really enlivens the whole piece.
The design allows for a lot of variety in stitching techniques, and Barbara really took advantage of that, using many goldwork threads and techniques, from Or Nué to chip work with purls, to couching and outlining with various types of threads.
It's like a little sampler, all tucked away in a heart!
And the various crystals – many that are flower shaped – used for the centers of the flowers fit right into the theme. A brilliant touch!
I'd love to see this piece in person. I bet it glitters and gleams!
And the finish? It's an exquisite sweet bag constructed in a semi-heart shape, with a hand made cord and a glorious tassel.
And it's just beautiful.
Now, that's what I call a Valentine!
Valentine's Day Embroidery Patterns
If you're wanting to stitch up something for your little lovey for Valentine's Day, here are some free embroidery patterns that might do the trick:
Valentine – a scalloped, flowered heart (accompanied by my world-famous poem, Will You Be Mine?)
Heart o' Flowers – the design Barbara used, along with an explanation of my corny name for it.
L-O-V-E in a Box – Since love is a four-letter word, it grids up nicely into a box!