What happens when you step away from a particular embroidery project for a long, long time?
For me, I lose the groove of the project. The touch. The feel. The rhythm and instinct that comes with repetitive methods.
Usually, it takes me a little bit of stitching to get just the right rhythm and flow of work going again.
But sometimes, you know, it's not bad to develop a new groove altogether! Let me explain…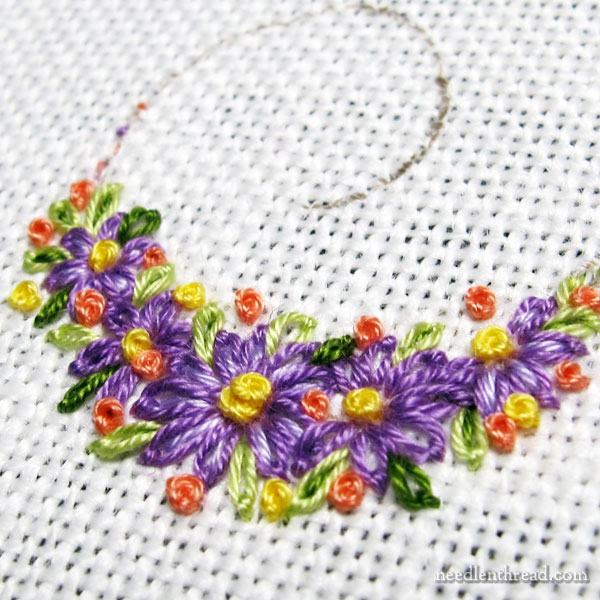 It's been a year and a half since all the letters in the Stitch Sampler Alphabet were finished, I blush to admit! But I'm not finished stitching them, I find.
And it's not because there are more than 26 letters in the alphabet these days. That, at least, hasn't changed!
I've had to go back and re-stitch a couple letters, for different reasons.
One letter is the H. I like the old H, but the ground fabric, an apple green linen, is quite, quite green:
Did I mention it's really, really green?
For the e-book (coming soon!), I want to present an alternative H, on a different background. I also want to dress up some of the stitch combinations in the original H.
When I sat down to embroider the new sample, I noticed something.
It wasn't quite as easy, it wasn't quite as fast, and the stitching looked somewhat different.
It seems to me that, when you work the same kind of project over and over again, you develop a kind of feel for it, and you also fall into a bit of a rut. Things start tightening up and becoming mechanical.
When you leave the project for a while (in this case, a long while!) and then come back to it, the mechanical, repetitive part is gone. The approach becomes looser, slightly different.
Am I the only one who's noticed this? I doubt it! In one regard, this is a good reason to step away from a project for a little while and take a break, especially if it's beginning to feel too constrained.
On the other hand, if you're trying to create a complete series of stitched items, you do want a little continuity in the look.
Luckily, with these letters, the continuity comes from the design and approach, the various stitch combinations, the style of the letters, and so forth. A little freer stitching, a little looseness in interpretation from one letter to the next is not going to ruin the series.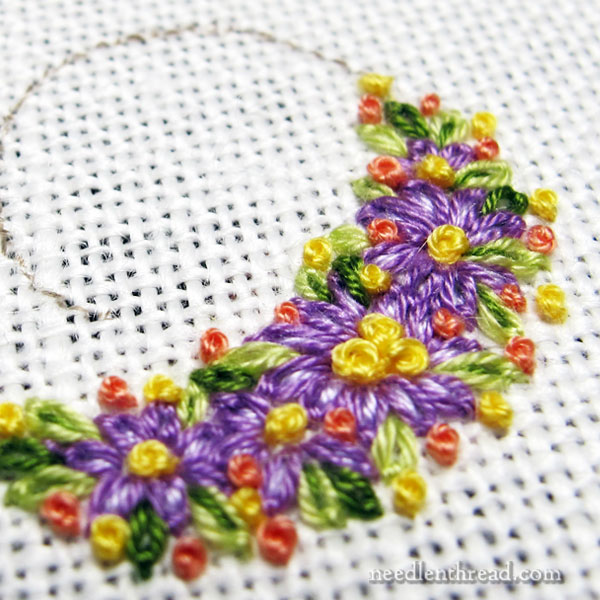 On this particular letter, I'm using a completely different type of linen, compared to all the different linens I used on all the other letter. And while this one isn't a favorite-favorite for surface embroidery, it is a surprisingly good option for this particular embroidery, despite the fact that it's a relatively low-count linen at 25 threads per inch.
This is Round Yarn Linen. (Update 2017: Round Yarn linen is no longer available in the US. As a substitute, you might look for a 25 or higher count linen that has full, fat threads and is closely woven.)
Because the warp and weft threads are mighty plump and round, the fabric works well for surface embroidery, as long as you use a crewel needle and stitch straight through the fabric threads while you embroider. You might be attracted to the little holes around the intersections of the woven threads, and you can use them, but for surface work, you really want to pierce through the fabric threads and not rely solely on the holes formed by the weave.
For thread, I'm using coton a broder #25 in a variety of colors, with a #7 crewel needle. It's working great!
So, with the new H almost finished, I'm one big step closer to finishing the Stitch Sampler Alphabet e-book – just in case you took me too seriously last week when I talked about Late Harvest and not getting anything else done!
I'm close enough now, that I'm setting a semi-firm goal of launching the book by Easter. I'll have more details about it in the weeks to come!
Questions, comments, suggestions? Feel free to have your say below!