Last week, we looked at this pretty little vintage handkerchief adorned with violas stitched in tent stitch.
One question that came up was how to tell if an embroidered handkerchief is stitched by hand or by machine.
I'm not really an expert on this subject, but there are a few indications that I look for, that point to machine embroidery instead of hand embroidery on vintage pieces.
The Embroidery Machine in History
Embroidery machines have been around for a while, the first one being created in the early 1800's, even before the first patented sewing machine.
There's an interesting infographic here on the history of the sewing machine. So, although inventors dabbled with sewing machines in the late 1700's, before the first one was ever patented, the first embroidery machine was made in France, in 1828.
This was followed by a Swiss embroidery machine in 1863 (created by Isaac Groebli), called the Schiffli, which was later improved upon by his son.
Eventually, in the early 1900's, Singer developed an embroidery machine with multiple heads.
The embroidery machine has continued to develop since then, and today, we have super-duper-fancy digitized home embroidery machines readily available for anyone who wants them and can afford them.
Machine or Hand Embroidered?
When machine embroidery first came about and even today, there have been those who assert that you can't tell the difference between something that is machine embroidered and something that is hand embroidered.
I think most people who are familiar with hand embroidery and have some knowledge of textiles in general can tell the difference.
Because serious embroiderers are immersed in their needle pursuits, because we're familiar with the stitches and the way they naturally work and we're familiar with threads and how they play together, we can more easily recognize the difference between something that is machine embroidered and something that is hand embroidered.
Now, don't get me wrong. Machine embroidery definitely has its place and its plusses! I'm not contending that one is better than the other. (Ahem – I'm not.) I prefer hand embroidery for hand embroidery, but I also appreciate (and I'm in awe of) what can be accomplished with a machine.
But there are certainly recognizable differences between the two – machine embroidery is different from hand embroidery.
This particular handkerchief was made in the French Zone of Austria, which means it was made some time during the ten year span of Allied-occupied Austria, from 1945 through 1955.
As romantic as it sounds – that a lady, perhaps, sat at home embroidering by hand pretty little hankies to provide income in a cottage-industry type setting during tough post-war years – the handkerchief, examined closely, tells a different story.
The embellishment on the handkerchief consists of large red flowers stitched in what looks like long & short stitch, smaller satin stitched purple flowers, stems in a kind of loose chain stitch, large leaves and small leaves in what looks like satin stitch and straight stitches.
Notice that the direction of the stitching is all straight, when it comes to the flower. The stitches don't turn to follow the shape of the petals. Instead, a series of straight stitches fills each petal shape, straight across the shape.
Notice as well that the dark stitches, stitched on top of the brighter red stitches, pull into the red stitches in pairs. You might not be able to see that so well, but if you click on the photo and enlarge it, it's a little clearer that each dark stitch actually looks more like two stitches.
Notice, too, that the satin stitched dots that make up the center of the flower are all connected. The thread continues from one dot to another, so that there's not really a separation of dots there.
True, true, this can all be achieved by hand!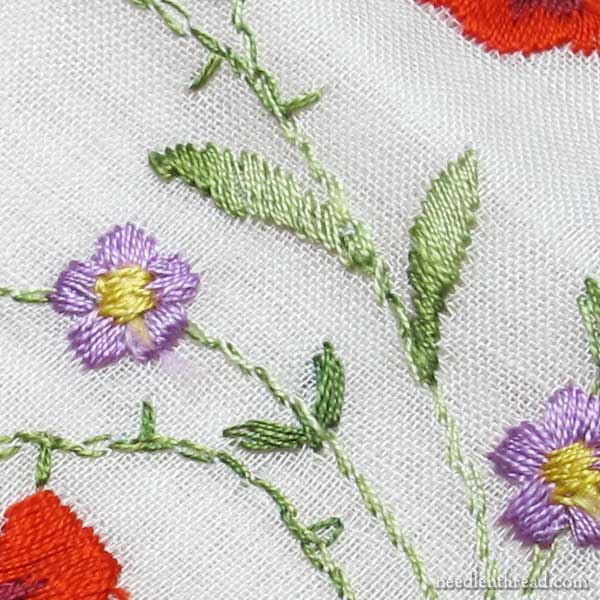 Now, let's look at the small purple flowers – again, all stitched in apparently satin stitch, and each of the petals moving in a square kind of direction. Look as well at the apparently satin-stitched large leaves. Notice that they have kind of a zig-zaggy look to them, as if the green threads are taken from one side of the leaf over to the next, and couched down, before continuing back to the other side – like a couched surface satin stitch.
Again, this could all be done by hand.
Notice as well the stem. It sort of looks like an open chain stitch in some places, or just slanted straight stitches in other places. But the thread is always in twos.
Now, let's turn the piece over.
Wow! Look at all that white thread! And yet, on the front of the fabric, there's no white embroidery. What's going on here?
And here's the back of the stems and leaves. More white thread – and it looks a lot like a chain stitch, when following the line of the stems.
I think this is a pretty good sign that this particular piece is machine embroidery. The bobbin thread that holds the colored threads down is white, perhaps to save on the colored threads, perhaps to save on time (if the bobbin thread is always white, you don't have to switch to a different bobbin when switching to different colors of threads on the top).
You can also see a long white thread carrying from the large purple flower at the top of the photo to the purple flower to the lower left on the photo.
Another sign of machine embroidery is finding systematically carried threads across the back of the work. If you can follow an almost-mechanical, logical path of carried threads on the back of an embroidered item from one motif to the next without a break, it's most likely machine embroidery.
So, the stitching on the top of this hankie is not actually satin stitch. It's more like a chain stitch that's pulled to the back by a bobbin thread, so that the chain stitch makes a pair of straight stitches on the front.
The argument could be made that it's hand embroidery, done like undersided couching, but I think it is more likely machine embroidery.
Still a Treasure!
Though embellished by machine, the handkerchief is still a delicate treasure. I'm not one to write off a piece of vintage work because it was "made by machine." It's still a little piece of history, a tribute to a culture, a time, a place. And it's very pretty!
Any Other Tips for Recognizing Vintage Machine Embroidered Pieces?
So, the two definite things I look for when wondering if a vintage piece is machine or hand embroidered are carried threads in a logical, systematic patter, and obvious bobbin threads, depending on the type of machine embroidery. Additionally, I look for stitches that are not normally created by machine: certain types of filling patterns, complex surface stitches like braid stitches, composite stitches, different types of drawn thread stitching – any type of stitching that is obviously hand stitching. Finally, the thread can often be a give away. Threads made for hand embroidery are often softer and not as tightly twisted as machine embroidery threads.
What about you? Do you have any tips for distinguishing embroidery by machine from embroidery by hand on vintage items? Help us learn by sharing your wisdom below!