Here in the northern hemisphere, it's definitely time for a little touch of spring!
And this hand embroidered, vintage handkerchief I want to show you today is Just the Thing to inspire spring-like thoughts. It's a lovely specimen, with its little cluster of sweet violas, meticulously embroidered in an interesting technique that you don't often see on hankies.
Monograms with satin stitch? Sure. You see them on handkerchiefs all the time. Pretty flowers in long & short stitch? Yep, those show up quite a bit, too.
But this approach? This approach on a very fine linen handkerchief – you don't see so much.
I think it's so pretty – and I hope you will, too!
Violas and violets are my absolute favorite flowers. If I could carpet my whole yard with them and decorate my whole house with them, I would!
So when a reader (thank you, Jane!) sent me an amazing assortment of vintage handkerchiefs collected by her mother and grandmother over the years, this little beauty caught my eye right away.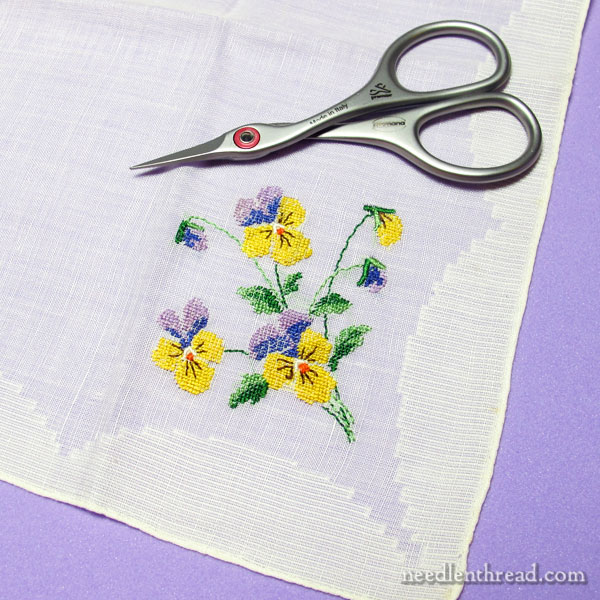 To put the delicacy of the embroidery into better perspective, here's a pair of embroidery scissors as a gauge. The bunch of violas is not large – just a small corner design on a very finely woven linen ground fabric.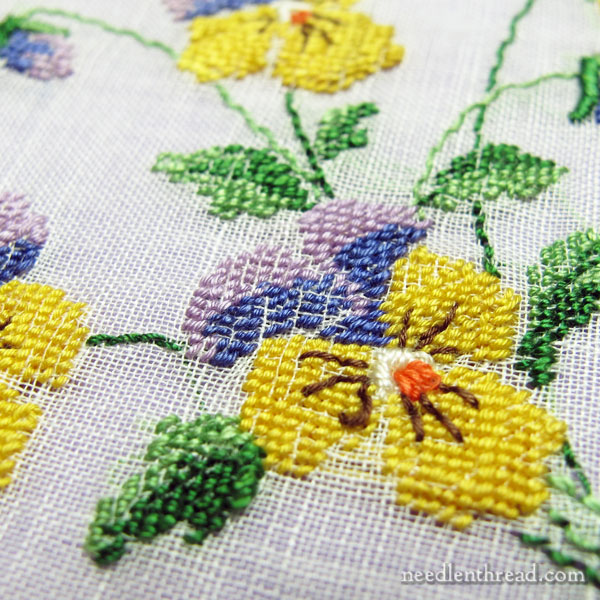 With the exception of a few leaves, the stems, and the accents on the flowers, the whole design is worked in tent stitch.
In the close-up above (you can click on the photos for a larger version), you can see that the tent stitch is worked over two fabric threads. The stitches are tiny!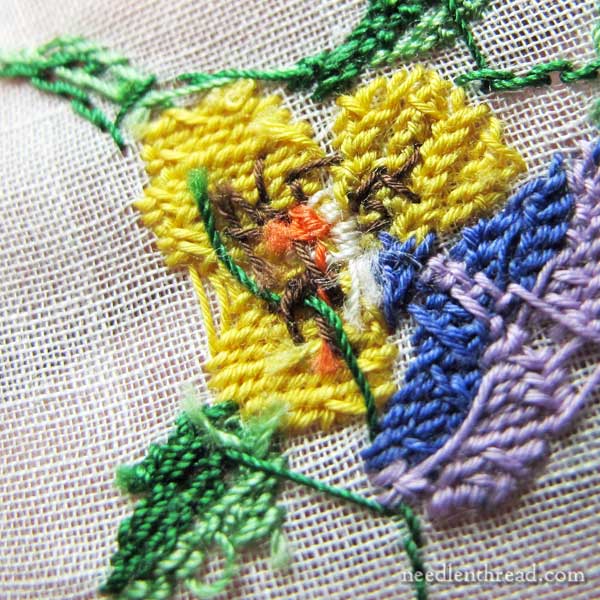 And here's the back, in its glorious haphazardness.
The thread used is a cotton thread – it looks like coton a broder up close, in a finer size than what we have available in colors today.
I don't see any evidence of transfer lines, but I'm certain that the design was not a counted or charted design – it was most likely drawn on in pencil (or something that washed away) and the spaces filled with the tent stitch, and then the accents worked over the tent stitch flowers.
The stems are worked in a reverse running stitch. At first I thought they were backstitch or even a cable stitch in some places, but the back of the fabric makes it clear it more of a reverse running stitch (or Holbein stitch), where they're worked in running stitch first in one direction, leaving spaces between the stitches, and then back along the same path, filling in the spaces.
So there's your Monday-morning inspiration – and a little shot of spring, mid-February!
Wherever you are, have a wonderful Monday!
Tags