If you've been hanging around here on Needle 'n Thread for a few months, you might remember that, shortly after Christmas, I mentioned that Benton & Johnson in the UK was having a sale on their website, particularly on their goldwork embroidery kits (which are still marked down, by the way).
I purchased a few of them at the time so I could review them for you. Gosh, I just love using you as an excuse to feed my embroidery habit!
Just in case you're looking for goldwork kits suitable for beginners and beyond, it's nice to know what you'll get when you order an embroidery kit. The descriptions on the Benton & Johnson website are not very thorough, so I was curious to see what their kits are like.
So, here it goes – what you can expect in a goldwork kit ordered from Benton & Johnson…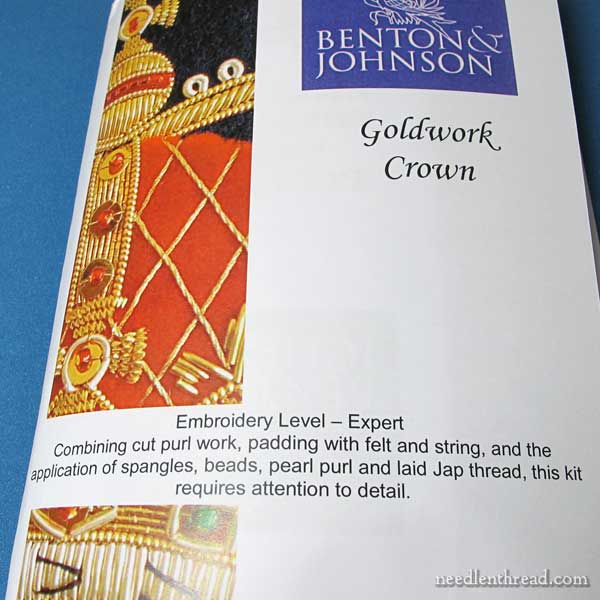 When you open the kit up, you're met with an instructional booklet, into which all the supplies for the project are tucked up nice and snuggly.
This particular kit is rated "expert level" – it's this goldwork crown kit.
In the Benton & Johnson kits, the instructions are all drawn diagrams with explanatory text. The diagrams are clear, and the text is easy to follow.
So, besides the initial image of the finished design on the cover, don't expect photos of the piece in progress or finished. All the instruction is done through drawn diagrams.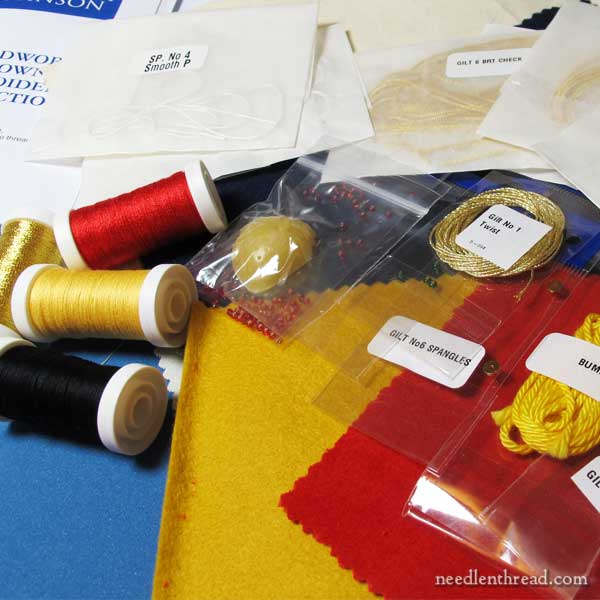 And then, of course, there's the Stuff!
Everything you need to complete the kit is included – the backing fabric, the ground fabric, the felt padding, the red velveteen, the spooled couching and sewing threads in various colors, a wee beeswax strawberry, the string padding (or bumf) for underneath the purls, all the goldwork threads, the beads, and the spangles. It's all there!
And, for most of the supplies, there's more than enough to work the kit – or at least, there's a little wiggle room.
What you need to supply: a frame for framing up the project, scissors (for metal threads and regular threads), and needles.
The ornament goldwork kits – like this angel ornament – are quite good for beginners. They have everything you need to complete the ornament, and the instructions are clear and precise. The techniques are simple goldwork techniques that are accessible and easy.
So, that's what you'll find in the Benton & Johnson goldwork kits from the UK.
The biggest drawback for US embroiderers interested in goldwork kits from Benton & Johnson is the shipping. I'll show you some of their metal threads a little later on, and discuss how you can reduce the sting of the shipping costs, at least a little bit.
What about you? Have you tried any of the kits from Benton & Johnson? Do you have any questions, or are you're curious about any particular point about the kits? Feel free to leave a comment below!