To help you make it through the midpoint of the week, how about some thread talk and a little give-away?
You know I have a thread problem, right? I freely admit it. I like embroidery threads!
What am I saying!?! I Love embroidery threads!!
Like the crow to sparklies, like the dog to squirrels, I'm drawn to embroidery threads. They are my One Weakness.
(Well, one of my one weaknesses, anyway!)
Today, I'm going to spread the love a bit – you know, give you an opportunity to indulge your thread obsession, too.
Because I know you must have a thread obsession. Isn't that why we get along so well? We understand each other, after all!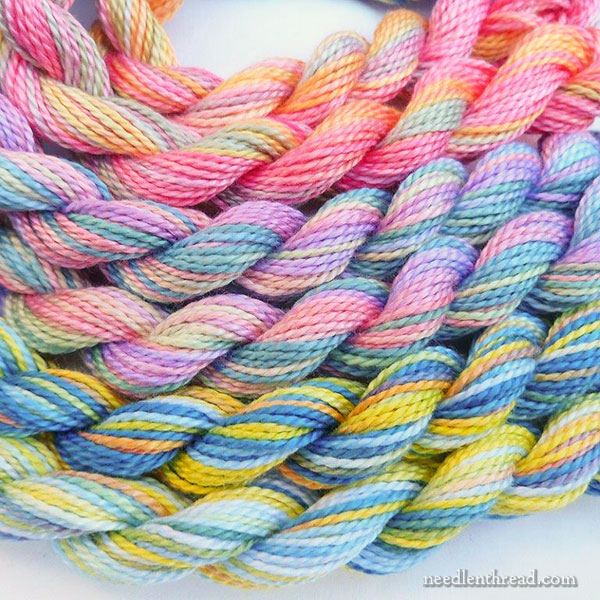 Courtesy of Lorraine at Colour Complements, two participants in today's give-away will get to choose 5 skeins from Lorraine's inventory, to add to your own stash, or to implement in your current project, or just to salivate over occasionally.
Lorraine's threads are over-dyed threads, dyed by hand, and they include various types of threads: perle cottons in sizes 5 – 12, regular stranded cotton floss, silks, rayons, viscose tubular ribbons, and sparkle chainette. Lots of variety!
Right now, she's got a sale going on in her Etsy shop, to clear some inventory, so if you're keen to try out her threads, you'll find this selection of perle cottons and floss available at 25% off.
And she's got some newly dyed colors in – like this Fantastic spring green blend, which is available in perle cottons 5-12 and stranded cotton floss. If you're working on anything springy, this would be a great color way to have on hand!
The Thread Give-Away
If you'd like the chance to win 5 skeins of glorious overdyed embroidery threads of your choice from Colour Complements, just follow these guidelines:
This give-away is now closed. Thanks so much for participating!
1. Leave a comment below, here on Needle 'n Thread. If you're not sure where to leave the comment, just follow this link directly to the comment form. Comments via email (in reply to the newsletter) or left on other articles are not eligible.
2. Please make sure you leave a name on the comment form – in the name line or in the comment box – that's more or less unique to you. See, if you sign your comment "Sue," there's going to be confusion when I announce the winner. So if you could just individualize your name a bit if it happens to be a common name, that would be terrific.
3. In your comment, please answer the following:
When you embroider, what are your favorite colors to work with in a project? If you had to pick, say, three colors that you like combining into one project, what would they be?
4. Leave your comment by Tuesday, April 28, at 5:00 am (central time – KS, USA), and I'll announce two randomly drawn winners that day. The winners will need to contact me, so if you join up, make sure you stop in next week to see if you win! If I don't hear from the winners within 48 hours of the announcement, I'll draw again.
And that's it! The give-away is open to anyone, anywhere. There's no affiliation here – just a good opportunity to spread a bit of thread infatuation!
So go on – join in the fun – leave your comment below! What's the worst that could happen, after all? Five more skeins of embroidery thread in your stash?
You could live with that, couldn't you?
Tomorrow, I have an announcement for you. A very exciting one! See you then!