I'm Sooooo Excited to tell you this!
Guess what's finally showing up here on Needle 'n Thread – in just a couple days?
It's been in the works longer than the Secret Garden Hummingbirds, longer than the Hungarian Redwork Runner… and finally, finally, it's finished and ready to share with you!
It's the Stitch Sampler Alphabet, and today, I'd like to tell you a little bit about what you can expect with this new offering from Needle 'n Thread.
The Background
The project started a couple summers ago, when I thought it would be fun to stitch each letter of the alphabet, using a variety of stitches, combinations, and composites.
Originally, it was a stitching game, a challenge to build an alphabet that relies on fairly simple stitches that can easily be made ornate by working up different composites and combinations.
The Stitches
Stitch Sampler Alphabet features 18 basic stitches that are combined in over 65 different ways – and that beg for even further interpretation!
Once you start playing with the stitches, seeing how they can be combined and further embellished, you'll find out that the possibilities for embroidering decorative initials (or lines, borders and more, for any surface embroidery projects) are almost limitless!
The Content
The alphabet is presented with stitching instructions for one letter that we work through together step-by-step.
This is followed by each stitched letter sample, with a materials list (including fabric and threads lists) and a stitch layout guide. Close up photos show the various section of each letter and are accompanied by an explanation of the stitches and combinations used in each section.
The letter samples, materials, and stitch layout guides are followed by a thorough stitch dictionary, with step-by-step photos of all the stitching techniques used in the alphabet.
Full-sized line drawings for the all the letters are included, along with a resource list for all the supplies used in the samples.
Throughout, you'll find pertinent stitch tips that will come in handy as you work through your own projects and that will give you ideas for embroidering letters that are uniquely your own.
The Possibilities!
The alphabet offers lots of room for stitching your own unique letters. You can apply the techniques to different styles of lettering; you can mix up the stitch combinations, choosing those that you particularly like; you can experiment with threads and color.
The techniques used in Stitch Sampler Alphabet are not restricted to embroidering decorative initials – you can use the combinations on your own embroidery projects, whether you're working a sampler, a crazy quilt square, a crewel project, or any kind of surface embroidery project that could benefit from some decorative lines.
The Technical Stuff
Stitch Sampler Alphabet will be available as an e-book in PDF format, which means that you can open it and use it on any device that reads a PDF, from your desktop computer, to your iPad or other tablet, to your Kindle or your Nook.
You can also print the e-book, or, to save on paper and ink, just print the pages you need. For example, if you're embroidering a C, you might just print the pages pertinent to the C – the design, the stitch layout guide, and the stitch instructions.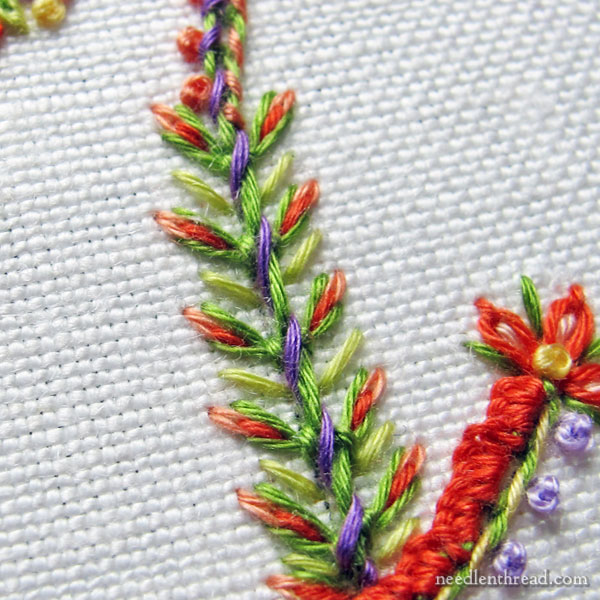 Because it's made to be both printed and viewed on a screen, the e-book offers the advantage of allowing the reader to zoom in on the high resolution photos and see all the stitch details clearly and larger than life.
The PDF is interactive, with a clickable Table of Contents so that you can easily jump right to the section you want to view. When stitches are mentioned throughout the book, they're linked directly to their instructions in the stitch dictionary. And you can view the PDF in thumbnail view, too, which makes navigation quick and easy.
The book is 120 pages long, in full color, with 26 letter patterns and over 525 photos.
The Release Date!
Stitch Sampler Alphabet is available now, for download, in my shop here on Needle 'n Thread.
If you have any questions, feel free to leave a comment below!