This isn't the first time I've gotten into embroidered handwriting – and it probably won't be the last!
If you've poked around a bit on Needle 'n Thread, you might be familiar with my tutorials on embroidered lettering and text. That was a fun sampler! And it morphed into a series of 15 free tutorials on embroidered handwriting, lettering and text.
Right now, I'm working on some embroidered handwriting samples – some are along the same lines as the sampler, some are straightforward embroidered handwriting for specific purposes.
I thought I'd open up the topic for some reader input. Have you ever embroidered your own handwriting? Or embroidered text using a computer font? Have you ever embroidered writing on quilt labels, crazy quilt squares or the like? Or embroidered words on surface embroidery samplers? Maybe you've added embroidered names to christening gowns? Perhaps you've embroidered the words of an inspirational quote to hang on a wall or to use on a bookmark?
If you've done any of that, or taken other excursions into hand embroidered handwriting, my question is this: what stitches have you found most effective for these types of exercises?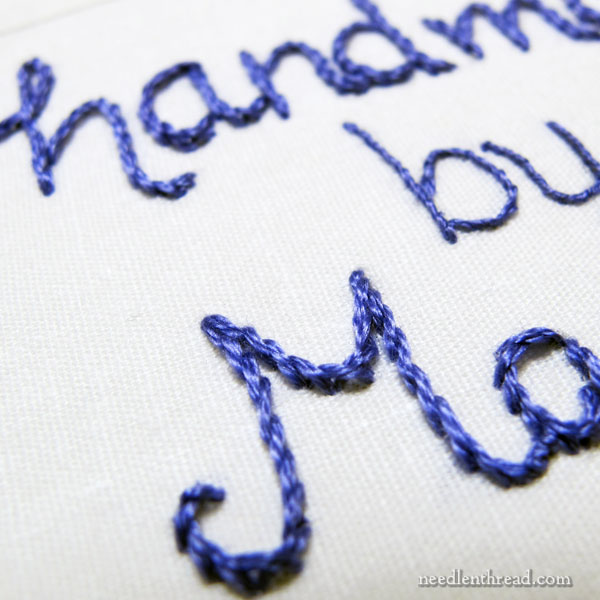 The more I play with embroidered handwriting, the more I gravitate towards certain stitches.
But what I've found is that the stitches I choose really depend more on the purpose of the embroidered Thing. For example, am I embroidering something meant to be primarily utilitarian? Or am I embroidering something primarily meant to be displayed?
That's not to say you can't combine both approaches. A quilt label, for example, is rather utilitarian: it's purpose is to sign and date the quilt, and maybe say something about the maker or the quilt itself.
But who says a quilt label can't be decorative? And in fact, I've seen many that are Highly decorative – almost more decorative than the quilt!
When it comes to just getting a point across in embroidered handwriting, I find myself drawn to two stitches that work for me every time: stem stitch and whipped backstitch.
(And just to give you an idea of the scale of the handwriting above, see that needle? It's a size 28 tapestry petit. In real life, the needle is t-i-n-y. The text up there is about 1/4″ high, even though it looks rather huge in the photos.)
Stitches for Embroidered Handwriting
Stem stitch, I like for it's ropey appearance. It makes a nice looking line – not entirely smooth, no, but nice looking. It's a little tricky on very small letters, especially if you're using two strands of floss at a time, because it requires care when taking tight curves (or you end up with letters that look a bit hairy and prickly).
Whipped backstitch, I like because no embroidered handwriting task can be too small for it. Well, ok – "too small," within reason! If you need to embroider fine, small handwriting, but you want a smooth line (not the bumpy, jerky line of typical backstitch), whipped backstitch does the job!
Two other favorites for embroidered handwriting: split stitch and heavy chain stitch, but those only under certain circumstances.
Split stitch, I like when using a non-strandable, softly twisted embroidery thread, like floche or coton a broder. I don't like split stitch with perle cottons. It just doesn't work as well for me. And if I'm using regular floss, split stitch is great for tiny, detailed writing with just one strand of floss.
Heavy chain stitch, I like for letters that are a little more blocky and that need a slightly heavy, smooth line. For heavy chain stitch, floche, coton a broder, and floss all work great. On heavy lines, #12 perle cotton can work quite well, too.
Do you embroider your handwriting?
Have you ever embroidered your own handwriting? Or embroidered handwriting-like fonts printed from your computer? What type of project was it for? And what stitches do you enjoy using when embroidering handwriting, lettering or text?
I'd love to hear your take, too – chime in below and let's chat up the topic of embroidered handwriting! I'd love to hear your insights!