As promised, today's the Big Launch Day for Stitch Sampler Alphabet: Decorative Initials in a Variety of Stitches! I'm very excited to be able to offer this PDF printable to you, so that you can embroider your own stunning letters in a whole bunch of Really Fun Stitches.
Here's a preview of what you can find inside Stitch Sampler Alphabet, with details on how to procure it, how to use it, and how to breeze through the simple technical stuff.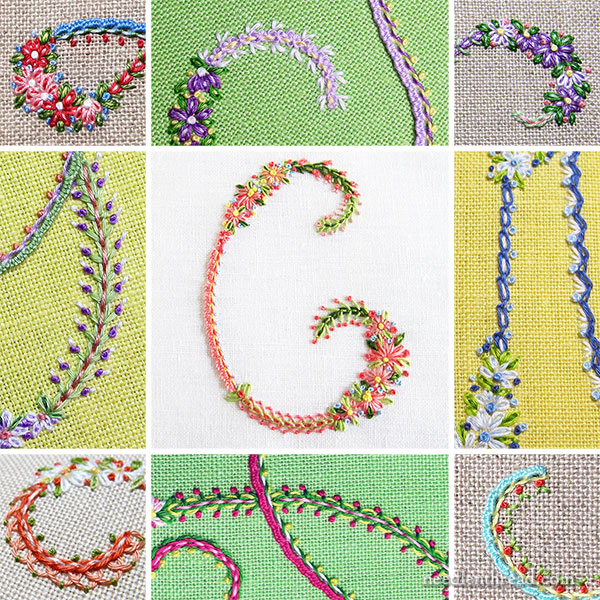 What can you expect to find in Stitch Sampler Alphabet? Let's break it down!
The book begins with an introduction with all the nitty-gritty information on copyright, how to use the book, how to use the letter layout guides, how to use the stitch dictionary, and the basics you'll need to get started stitching the projects.
Then we move into Section One: The Method and Order of Stitching.
Here, we work through a letter together, step-by-step, so that you can see how the letters develop and what order to stitch any letter in. There are plenty of tips along the way, and (of course!) plenty of clear photos.
Section Two is the Alphabet! Here, you'll see stitched samples of all the letters of the alphabet, in large, clear photos, along with materials used for each letter, and a thorough run-down on the stitches used to embroider them.
There's a layout guide for each letter, to show you which stitches and combinations are worked in each section of the letter.
Under the layout guide is an overview of the stitches used in each section, arranged by corresponding numbers.
Following the layout guide for each letter, you'll find a page of close-up photos of each section of the letter, with elaboration on the stitches used to create that particular section.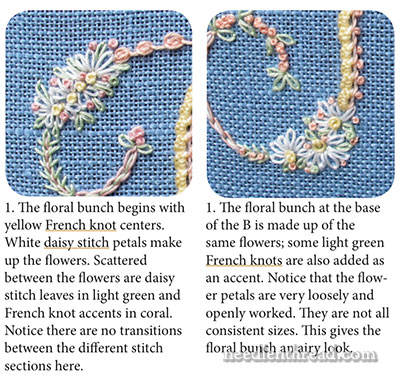 Notice the light gold lines underneath the stitch names? Those indicate links to the instructions for that particular stitch, so that, when viewing on your computer or compatible device, you can jump straight to the stitch instructions you want.
In Section Three, you'll find a thorough stitch dictionary that covers every stitch and technique used in the Stitch Sampler Alphabet. Each stitch is worked in out in photos, step-by-step, with accompanying text.
Notice the little yellow boxes along the way, too. Those are stitch tips – little hints, ideas, and tricks that will help you out and provide ideas and inspiration for exploring other possibilities.
Section Four provides you with patterns for all the letters, in bold, clear lines for easy tracing.
Section Five is a list of resources where you can find all the materials used in the stitched samples you see in the book.
The Advantages of the E-Book
I know some folks prefer traditional books, but since that's not an option for me right now, PDFs are the best way I can deliver this kind of content to you.
There are some advantages to e-books over regular books, and with this particular PDF, you'll enjoy especially the fact that you can zoom in on pictures to see the details larger than life and crystal clear.
On the stitching side, the fun thing about this particular project book is that the techniques in it are not just applicable to the letters provided in the book. You can substitute letter styles that you might like better and apply the same stitching concepts to them.
Additionally, the stitching techniques can be used in all kinds of surface embroidery – they're not just for stitching decorative initials. The instructions in the book will come in handy on any embroidery projects that would benefit from decorative lines.
The Technical Stuff
Stitch Sampler Alphabet comes to you as a PDF, which means that it is delivered to you in electronic format via a download link in your email.
As a PDF, the document is viewable on any compatible device. This means you can view it on your desktop computer, your laptop, your iPad or other tablet, your Kindle, your Nook – in short, on any device on which you can view PDFs. You just have to download it to your computer first, and then move it out from there to your favorite device.
The PDF is optimized for printing at a high quality setting, so that you can also print all or part of it on your home computer, or you can take it to a printing service to have a personal copy printed.
The PDF is even interactive. You can click on the headings in the Table of Contents to jump right to the section you want to view. You can click on the stitch names and jump right to the instructions for those stitches. You can view the PDF with thumbnails or bookmarks, and easily navigate from section to section.
Delivery and Download
When you purchase Stitch Sampler Alphabet through the shop here on Needle 'n Thread, you'll be taken through a checkout process that will eventually land you with a Paypal option. If you don't have a Paypal account, that's ok! You can check out with a credit card through Paypal, without opening an account.
Anywhere from a couple minutes up to an hour later (depending on traffic), you will receive an email with a download link in it. It's very important that you enter your delivery email address correctly when you check out, because that's how I get the download link to you.
For security purposes, the download link is good for a limited time and for a limited number of downloads, although you can always write to me for a re-set if you lose your copy or have problems with downloading or syncing to other devices.
When you receive the link, it's best to download your copy right away to your computer and save it in a particular file, where you'll be able to find it. From there, you can sync it to whatever device you want to use to view it, you can use it right there on your computer, or you can print it.
The file is large (90MB), so please be patient with the download.
If there's a problem…
If for any reason, you have download difficulties, never fear! Just drop me a line with the email address you used to make the purchase, and I'll take care of you!
In the Shop
You'll find Stitch Sampler Alphabet right here, in my shop:
Click here to purchase your copy
of Stitch Sampler Alphabet
Thank you!
Thanks so much for your encouragement, support and patience through this project. I hope you enjoy stitching the projects in Stitch Sampler Alphabet as much as I did!
And you know… if you ever get stuck on anything, I'm just right here, waiting to help!