Yesterday, I showed you the finished second hummingbird on the Secret Garden Hummingbirds embroidery project.
I eked out the final stitches yesterday, so today, I'll show you those and share a final parting shot of the complete project. It'll be a while before it's framed, so for now, we can say bye-bye to the birdies!
The final stitches on the project were the dark brown lines down the centers of the larger leaves. The leaves on the lower half of the design were already finished, but those on the upper half didn't have veins.
The center lines are worked with one strand of floss, in stem stitch.
In retrospect, I should have used a lighter brown for leaf centers, but since the lower half was already finished, and since I had already used the dark brown on the lower half, I didn't want to start changing things and picking out stitches – not this close to the end.
And here is the finished piece, straight on: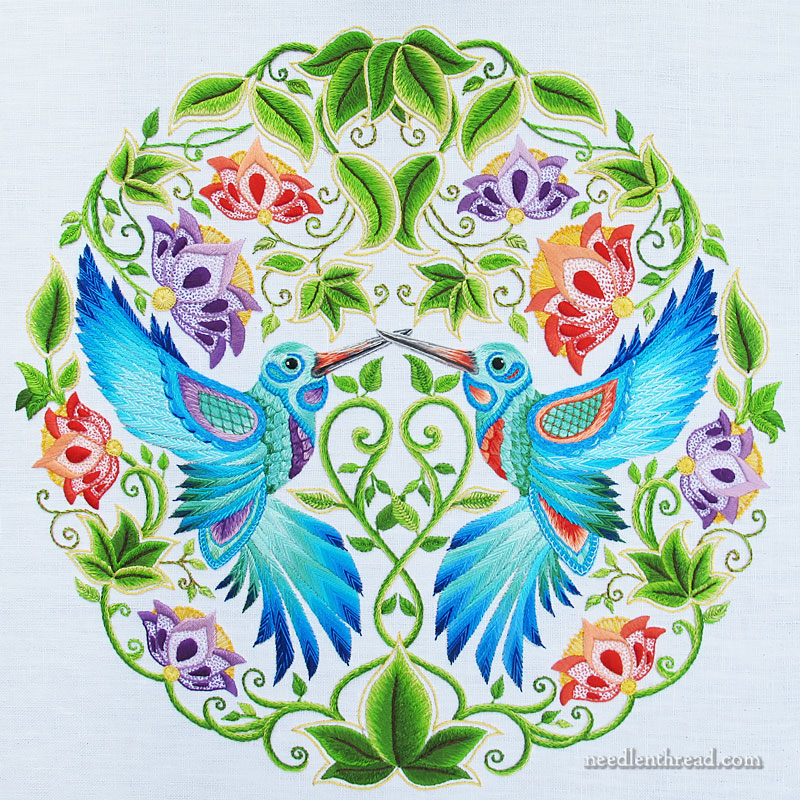 You can click on that photo for a much larger version.
The End.
So, what's next?
I've got a couple smaller projects going on right now, but I haven't settled on the next extended follow-along project for here on Needle 'n Thread. I'm juggling around a few ideas, but if you have any preferences, hopes, dreams, suggestions, feel free to chime in with your ideas!
In the meantime, if you're working on your own Secret Garden embroidery project, from Johanna Basford's Secret Garden coloring book (or the Enchanted Forest and similar coloring books) and you'd like to know how more about the techniques used on the hummingbirds, visit the Secret Garden Project Index. All the articles relating to this project are listed there, and in the articles, you'll find all the materials, stitches, and techniques used on the project fully explained.
Tags