It seems quite a few of us have taken to adding beads to our embroidery lately, incorporating some of the recent Stitch Fun! tutorials here and there in current projects.
I know this is the case – and that I'm not the only fiddling with beads now – because I'm receiving lots of emails with questions about adding beads to this stitch or that stitch, or about how to get this stitch to work right with beads, or about what size bead to use with that thread for this stitch, and other similar bead-related questions. I love these kinds of questions, and thanks for sending them in!
But I can rarely answer them all via email, in detail, so I've been keeping a list. If I can work out a tutorial that will answer your question and make it available for everyone here on the website, I will.
One particular question that's come into the inbox repeatedly is how to make a daisy-stitch-like loop that looks like normal petals or leaves when working it with beads. Since the stitch is a pretty popular one in general, I thought I'd answer that question right here.
There are a couple ways that you can work chain stitch and detached chain stitch with beads and get a decent result. Today, I'm going to show you the simplest approach to making a daisy stitch loops with beads.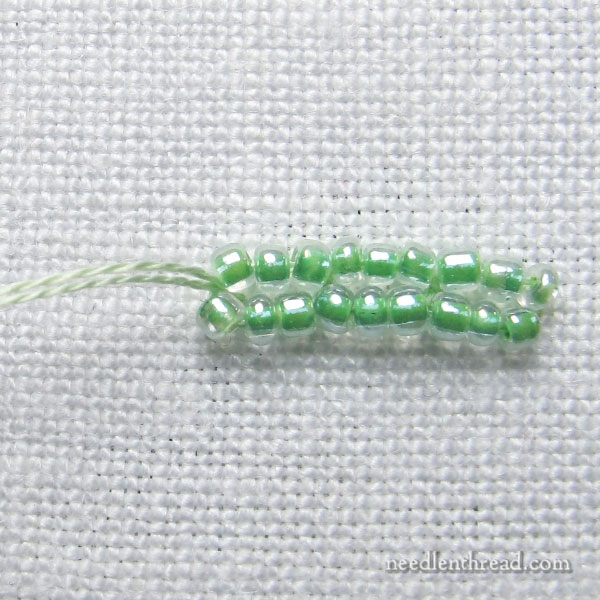 I know what you're thinking. That's not a daisy stitch.
And you're right, it's not!
To demonstrate the difficulty of a chain stitch with beads, I stitched up a little line of three chain stitches for you, using the normal approach to chain stitch, only I threaded beads onto the thread before making each chain stitch.
Do you see what happened? I ended up with the beads separating onto each side of the stitch, and pulling into almost parallel lines. The whole look of the loop and the chain is completely gone.
We know by looking at this example that you can't always approach every stitch you want to add beads to, the same way you'd approach it if you were just stitching it normally with thread. You might have to make some adjustments in the way you work the stitch, to get it to behave the way you want it to.
So let's look at the daisy stitch, which, in this case, is not quite a daisy stitch.
If the purpose of making a beaded daisy stitch is to create a petal shape (which is usually the case) with a beaded loop instead of a loop made from thread, then we may have to go about the stitch a slightly different way.
See what happens when I thread beads onto a needle and approach the stitch like I would a normal daisy stitch?
At this point, the stitch hasn't been anchored, but if I did anchor it with the thread, the same thing would happen here that happened with the chain stitch above. I'd end up with two relatively straight lines of beads on each side of the stitch, and they would look a bit wonky, because there's an uneven number of beads on the thread.
Here's the simplest way to achieve a decent, anchored loop that looks like a petal:
First, start with an uneven number of beads on your thread. Your thread should be able to pass through your beads twice, so make sure the beads are large enough in relation to your thread.
In this case, I'm using 11/0 round seed beads with a double strand of regular cotton floss.
Take the needle and thread to the back of the fabric next to your starting point, to form the loop with the beads.
Then, bring your needle and thread up from the back of the fabric behind the middle bead at the end of the loop and pass the needle through the middle bead, as shown above.
You should have an equal number of beads on each side of that middle bead, if you began with an uneven number of beads on your thread.
(You don't have to be this specific, necessarily. If you're using really tiny seed beads, then whether or not there's an even number of beads on each side of that center bead probably won't matter. With larger seed beads like the ones I'm using here, it makes a difference.)
Take the needle and thread to the back of the fabric on the other side of the bead you just passed through. You'll have a little space between the beginning of that thread and where you're going down, about the space of the bead's width.
When you pull the thread through, you should end up with a situated loop of beads on your fabric.
The loops work up pretty quickly this way, and as long as you're not stringing a whole lot of beads onto the thread to make Really Big Loops, they are stable. They'll keep their shape and serve well for petals and leaves.
There are other ways you can tackle this type of stitch, but this is the simplest, most direct way to form a petal-shaped loop out of beads.
You're always welcome to leave any questions (or comments or suggestions) below in the comments section, or if you have a question about a particular stitch you're having difficulty with and would like to see worked out in a tutorial, you can drop me a line and I'll add it to the list!
Looking for more?
You can find this and other tutorials for embroidery with beads listed in the Embroidery with Beads Index here on Needle 'n Thread. You can also find a whole slew of fun embroidery stitches to play with in the Stitch Fun! Index, and over 75 embroidery stitch videos available for your perusal, too.