You've probably noticed that there's a magnificent trend going on right now in needlework-related travel. I love it!
I love the fact that embroiderers are getting out and about to workshops, tours, and retreats in exotic places, from the Highland castles of Scotland to shipboard tropical cruises, where they can interact with other embroidery enthusiasts, learn about embroidery, and explore local needlework, all while enjoying the little luxuries and fineries afforded by the vacation.
What a way to take a holiday!
The fact is, though, I don't travel a lot right now. For the majority of us, the time might not be quite right for our dream vacation. Work, family obligations, financial restraints and the like keep us dreaming. Some day! Some day!
But this doesn't mean I'm not intensely curious about how these grand experiences play out! I love it when folks on the workshop or traveling end of the experience send me photos and emails. It's a great way to vicariously take part!
Today, I'd like to share with you some photos from a current needlework retreat in the Lakes District in England. The retreat is going on right now, and it looks lovely!
So, let's escape together for a little bit, shall we?
The Crewel Work Company's current retreat is taking place in the Lake District in England, where the participants are studying design and techniques from the Arts & Crafts movement, while nestled in a gorgeous setting among the lakes and hills of northwest England.
Oh, the view! What an idyllic spot for a needlework retreat!
Unlike some of the other Crewel Work company retreats and tours, this one is a bit more stationary.
While staying in one central location, where the attendees are enjoying some 30 hours of needlework instruction, there are short trips out to visit historical Arts & Crafts houses in the surrounding area, where they get to view private embroidery collections.
The retreat participants get to see fantastic specimens of needlework!
These are textiles you'd never really be able to see otherwise, and the participants get to see them close up and personal, where they can really notice the details…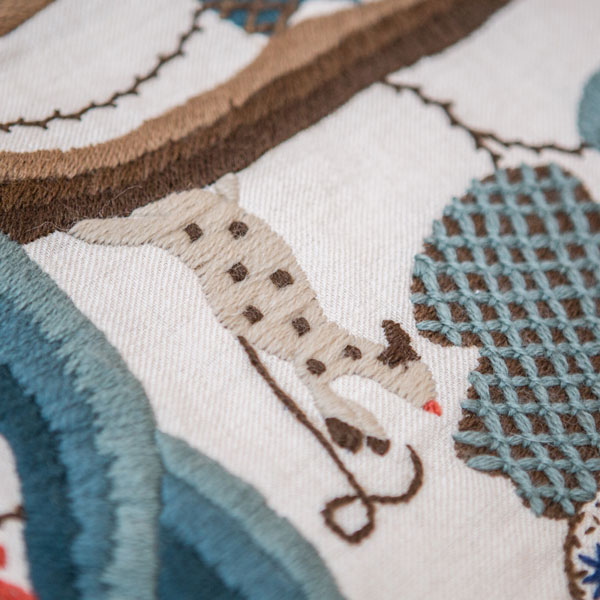 …like this adorable little spotted animal with its pink nose, leaping off a vine. Is it an ermine? Is it a dog? I don't know – I wasn't there for the explanation, but either way, it's pretty cute!
And red! Fantastic red! Adam & Eve in the Garden of Eden, surrounded by fantastic flora and fauna, all in red! And look at all that teeny tiny stippling with seed stitches.
And of course, the retreat wouldn't be complete without classes. This particular tour has three world-class tutors: Jenny Adin-Christie, seen above…
…Nicola Jarvis…
…and Phillipa Turnbull.
All three classes go on at the same time, during the times allotted for classes, with the participants in very small groups for concentrated tutoring. The classes rotate through the tutors from day to day.
Each participant receives a complete kit, with thorough instructions and every kind of needful thing to finish the project, and during the classes, all the techniques used for each project are taught.
For most of the projects, it's unlikely anyone will finish during the retreat, but they're all armed with good instruction and everything they need to finish the project at home.
But you know, after a week like this…
Who would want to go home?!
So that's what's going on this week over in England, with the Crewel Work Company's current retreat.
They have some particularly enticing tours coming up next year, too, with a Scottish Highlands tour and another Lady Anne's Retreat.
I'll admit, my curiosity is piqued by the Four Nations retreat in 2017. The details aren't announced yet, but I'm guessing it'll be a whopper.
Maybe it is time for that dream vacation, after all…
If you've been on, or are going on, a needlework-related tour or retreat and would like to share your experiences – to be a correspondent in the field, and spread the joy – I'd love to hear from you! Feel free to drop me a line!