On Monday when I mentioned the free shipping sale at Hedgehog Handworks, I dropped the name of a new silk on the market. It's not really a silk thread, but it can be used for embroidery applications of many sorts.
Soie Tressage is the name of a new line of silk braids – specifically, a soutache braid and a flat braid – made from Au Ver a Soie silk.
Today, I'll them to you up close and chat a bit about what you can do with them.
We'll start with the soutache, pictured above. This is a very fine
Now, "soutache" is probably more popular today in bead embroidery than it is in regular surface embroidery. You can find some pretty incredible examples of gorgeous soutache bead embroidery online, especially on Pinterest. This board has some fantastic photos, if you'd like to see what soutache with beads looks like.
But soutache doesn't only apply to bead embroidery.
Technically, soutache is not really embroidery, as a matter of fact. It fits more in the category of passementerie, or the decorative application of cords, gimp, trims, galloons, tassels, pompoms and the like to a ground fabric or item.
Still, soutache falls partway into the realm of embroidery. Like couching, it involves sewing the cord or braid to the ground fabric, and, in the most general sense of the term "embroider," it is decorative.
Soutache was popular in the 19th century, when it was quite fashionable for intricate patterns of sewn-on decorative braids to adorn clothing. It is also used in military application for uniforms, and it can be used to decorate household items and the like as well.
If you want to see some examples of soutache patterns and how the braids are sewn onto fabric, you might check out Therese Dillmont's La Soutache et son Emploi, which you can find right here in PDF form on Antique Pattern Library (that's a direct link to the PDF). The book has a wonderful variety of soutache patterns, which can be used for applying braid to fabric or can be adapted into surface embroidery patterns for regular stitching. It's worth downloading!
Braids used for soutache have a typical "V" pattern to them, and the Soie Tressage soutache is no exception. It's made from a flat silk, and there is no inner cord (as is found on most rayon or metallic soutache braids today).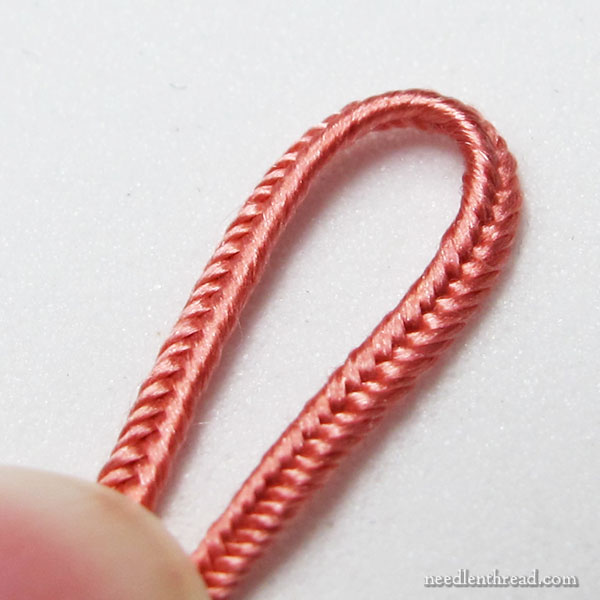 The silk combined with the braid structure create a very flexible braid, suitable for taking intricate curves on a ground fabric and remaining flat when sewn to the curve.
To give you an idea of how fine this particular soutache braid is, you can see the very tip of my index finger in the photo above, and it looks gargantuan.
The Soie Tressage flat braid, pictured in the photo above on top of the soutache, is made in the same coordinating colors as the soutache braid, and all the color numbers of both correspond with Au Ver a Soie's silks, so that you can use a perfectly matching thread (the same color of Soie 100/3, Soie Perlee, or Soie Gobelan) to sew the braids.
The flat braid has a slightly different structure to it. It has the smaller double-v structure of a flat braid, and is quite tiny as well.
The flat braid also takes curves well, and when sewn down, it can be manipulated so that it doesn't "cup" – ah, the flexibility of silk! – and it can also be folded to make squared corners and the like when sewing to a ground fabric. However, the braid is a little more tightly braided than the soutache, so you can actually manipulate it to cup, if you want it to.
If you want to see these braids in action in a beautiful little application, you might check out this Posey Casket Toy kit on Thistle Threads.
You can see the potential there for accents constructed from these tiny braids, for use in stumpwork embroidery pieces.
The photo above gives you an idea of the difference in the braid structure. The braid on the left is the flat braid and the braid on the right is the soutache.
What can they be used for?
As already mentioned, they'd work great in soutache – whether on surface fabric or in bead embroidery.
The soutache braid is decidedly more delicate than most of the rayons I've seen, so for those into soutache beading, you may find here a new option for delicate beadwork that you want to adorn with silk. Mmmmmm….pearls and silk. What a combination!
The two braids can be combined in the same soutache embroidery piece, to create a variation in texture that would enhance any two-part soutache design.
Additionally, and probably of more interest to the surface embroiderer, the braids can be used in stumpwork in various applications.
They can be used in surface embroidery to add interest and texture.
They can be used on crazy quilts or anywhere you want to add decorative lines with dimensional braids.
And they can also be used for delicate finishing touches on fine embroidered items.
Where to Find
Soie Tressage braids can be found through anywhere that carries fine embroidery supplies from Access Commodities.