Here's a little practice and play piece I worked on last weekend.
I wanted to try out the tiny mirrors for shisha embroidery that I told you about last week (the punched ones). I've also been itching to play around with some DMC Diamant (a metallic thread that I wrote about here) and tambour embroidery.
I went about setting up my play piece the wrong way, though. I don't know why I do things like this, but I do!
And I usually regret it later. So, learn from me. I like to make mistakes so that you don't have to.
From this angle, things aren't looking so bad. The little punched mirrors work really well.
Because they're so darned small, it takes little time to stitch them onto the fabric. And, because they're small and flat, they're a little more subtle than the larger, heavier glass shisha. They add the gleam and flash of the mirror without the bulk. I like them.
Diamant, which is a relatively newish thread (at least in the U.S.) by DMC, is one of the better metallics on the market for surface embroidery.
Pretty much every metallic thread has its troublesome moments, but I've found that Diamant is less troublesome than most when it comes to surface stitches. I find that I can work surface stitches with it that other metallics can't manage. I can also use longer pieces (not too long, but a good 18″ piece will hold up pretty well), and get just about as much out of it as I would out of a piece of floss.
I wanted to test Diamant with a tambour hook, primarily because it comes on a spool, which is always a boon when you're doing tambour embroidery. Tambour also has an interesting advantage to it, when using metallic threads.
See, when you work a chain stitch with a tambour hook (you can watch a video of tambour embroidery here to see what I mean, if you're not familiar with it), the thread only passes through the fabric once per stitch, and only a tiny loop at a time. So the thread doesn't wear down as much, and I was thinking that under these circumstances, tambour embroidery and a spooled metallic would be a match made in embroidery heaven.
It works! It took a little practice to get things really going, but I was able to stitch up this little tree in about 1/3 the time it would have taken me had I been working the chain stitch with a needle.
So I was pleased with that part of my playtime.
To understand my regret, though, we have to go back to the beginning.
This is my impromptu swirly tree, with the little mirrors laid out on it. My frame's flat on the table – otherwise, the mirrors would not stay in place. In fact, they're so light that if I breathed while I took this photo, they would blow out of their respective spots.
I didn't intend for this piece to be anything but practice. It was just something I was fiddling with, for the sake of learning and discovering some things.
So, when I went about setting it up, I did what I could kick myself for doing. I drew directly on the fabric, free hand.
Now, some folks can get away with that. You might be a very confident sketcher who has no problem creating smooth lines and curves with one simple sweep of your hand.
I, on the other hand, end up with lines and curves that are Just Slightly Off. And so I try to correct them. And then I make a mess.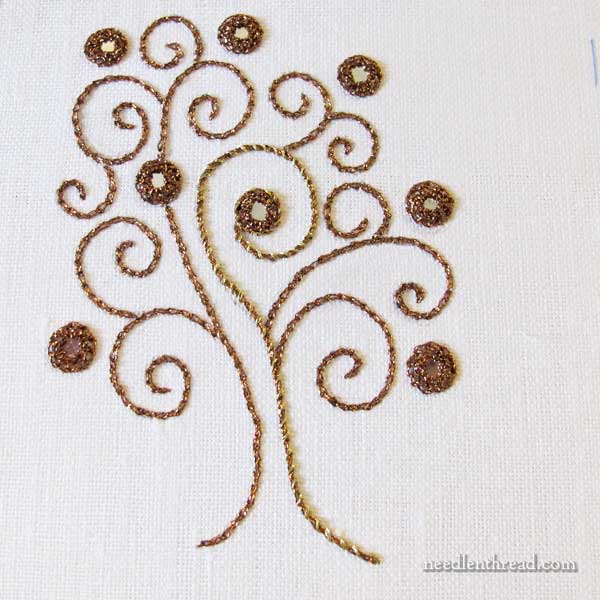 And here's the tree straight on.
You know what bugs me?
The wiggle in its walk. The hitch in its get-along. The totter in its timbers.
It's the trunk. It's warbly on the left and rickety on the right.
This goes back to one of the principles of basic embroidery: your design transfer is one of the most important steps in any embroidery project. While there might be some room for correction along the way, ultimately, if your transfer is sloppy, it will show in the finish.
My regret is that I didn't take more time to draw out a design for this, proportion the elements a little better, smooth up the lines, and then transfer it properly.
If I didn't end up liking the piece, I probably wouldn't care much. I'd say, "Oh, it's just a practice piece," and leave it at that. But in fact, I do like it – I think it has potential. And I've got a slew of ideas for further embellishment.
And so, I face The Dilemma – it's a question we've all faced before: Do I stop now and start over? Or do I continue forward?
I'm confident that further embellishment will help minimize the flaws in the drawing. 80% percent of me says Go Forward!. 20% of me knows that I'll always see the flaws.
Would you go forward? Or would you start over?
I'm going forward.
But I learned a good lesson. Next time, I won't underestimate a practice piece. I'll put a little more care into the transfer.
And I learned what I set out to learn: that the tiny mirrors work well and that Diamant and the tambour hook play pretty nicely together.
So even if, going forward, the piece turns out just awful, I still learned what I set out to learn, and that's never a waste!